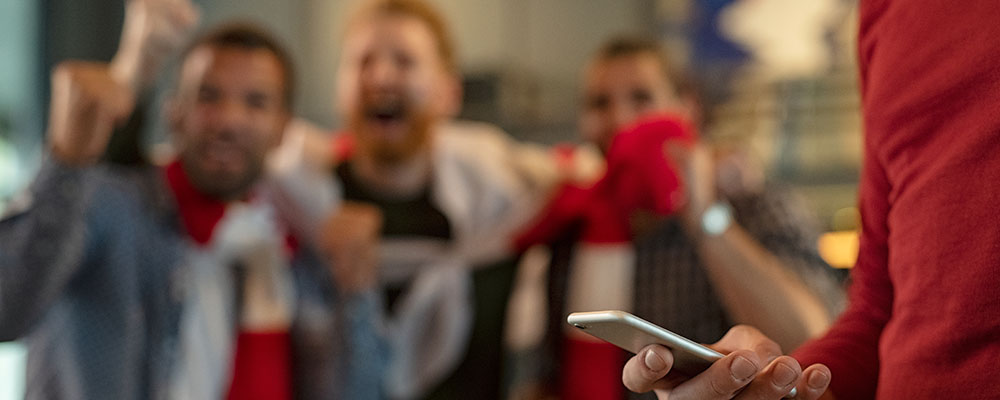 What is sports betting?
Around the world, millions of people gather at stadiums and in front of televisions at home and in pubs to watch their favourite sports team take on their rivals. It's a showcase of skills and strength and endurance, pitting athletes against one another in feats of glory reminiscent of the gladiators of Ancient Rome.
And, just like in Ancient Rome, fans of gambling know it as the perfect opportunity to put some cash down on the outcome.
This is sports betting, and it's worth billions around the world.
What is sports betting?
Sports betting is wagering on the outcome of a sporting game or event. This can be as simple as which athlete or team will win, or it can be as complicated as betting on when points will be scored, who will score the points, what the winning time will be or a thousand other permutations of the game or event.
Is sports betting the same as casino gambling?
In that you are betting or playing a game of chance – yes. But it goes far further than that.
In casino games you play against the house and with a specific set of odds. The odds in a casino game don't really change. If a slot has an RTP of 98%, it stays 98%.
In sports, chance is not quite as important as skill and history. If one team or athlete has a lot more skill than another, the outcome generally means that they will win. Consider Usain Bolt. At the height of his game no one would bet against the Jamaican superstar. When he walked onto the track it was almost a given that he would win the race.
For team sports it can be different. We all know that the New Zealand All Blacks are the best rugby team in the world, and have been for decades. But here is always the chance of an upset, or a close rival with the skills and passion to upset them on the day. England, Ireland and South Africa have all proven that the reputation of being 'the best' can be precarious when you come up against a team with a slightly better strategy, fitness level and belief in themselves.
So, while chance can be a factor in sports (Bolt could trip, the Barcelona goalie could dive the wrong way, the referee could get a crucial call wrong), the innate skills and experience of the athletes counts for way more than luck on the sports field.
As such, the way fans bet on sports is slightly different to how they bet at casinos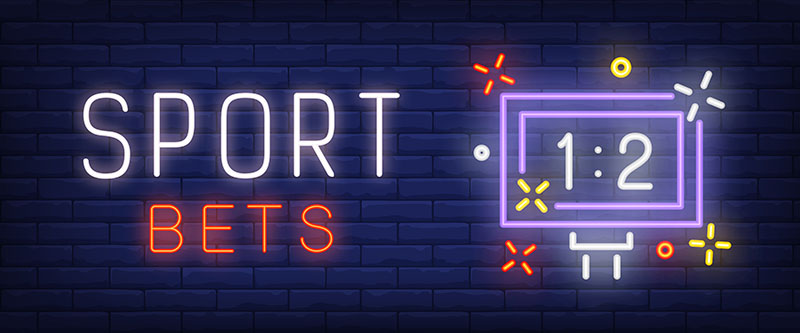 How do you bet on sports?
Sports betting can be quite complicated. The odds are an arcane mystery worked out by probability, history and the bookmakers themselves.
On the subject of bookmakers: sports bets are usually placed at a bookmakers or 'bookies', a specialised sports betting outlet. Many casinos, online and land-based, operate a form of bookmakers but the top sports betting establishments in the world are dedicated to their craft. Sportsbet, World of Sports, Betway, Paddy Power and Sunbet are just a few of the well-known bookies. Have a look at your favourite online casino to see if they have a sports betting option.
Bookies will set odds on a match or event and punters can place their bets on whether or not they think the chosen team or athlete will win. Some people will bet according to their heart and choose their particular team even if the odds are against them. If there is an upset win (South Africa losing to Japan at the 2015 Rugby World Cup, for example) the payout can be quite spectacular! The odds of Japan beating South Africa were as high as 80/1 so some patriotic punters really walked away with a wad of winnings.
So, bookies will post the odds on a specific event and punters can choose to bet with or against them. In some games, punters can change their bet or add to their bet as the game progresses. An example of this would be a football match. The odds at the beginning of the game are amended as the game progresses and punters can place new bets at half-time depending on what the score at that stage is.
Bookies take the bets, usually up front, record them and pay out as events unfold.
There are hundreds of different ways to bet on sports with hundreds of different variations from win to place to each-way to doubles to all kinds of specialty bets. The OCR team will be setting aside some time to create a full sports betting lexicon for our readers to explain each and every variable.
The odds
Odds are the lifeblood of sports betting. Not only do they give punters an indication of which athlete or team is the favourite to win, they also dictate the payout.
Odds are displayed differently in different territories. The European format is decimal odds, the UK format is fractional odds, and the American format is moneyline odds.
Decimal odds
Decimal odds are used in Europe, Canada, Australia, New Zealand and Singapore and quote the ratio of the payout amount (including the original stake) to the stake itself.
Return = initial wager x decimal value
Examples:
2.00 = R200 win on a R100 bet
5.00 = R500 win on a R100 bet.
1.25 = R125 win on a R100 bet.
Fractional odds
Fractional odds are used in the UK and Ireland and quote the net total paid out relative to the stake.
Examples:
1/1 = the bettor will win R100 on a R100 bet
1/4 = the bettor will win R100 on a R400 bet or R25 on a R100 bet
4/1 = the bettor will win R400 on a R100 bet
These are simplified example and fractional odds can be quite complicated as they, ironically, try to be simpler, for example:
If a punter stand to win R1,25 on a R1 stake, 1.25/1 doesn't really work for the format so it is amended to 5/4 or R500 win for every R400 bet so we have a whole integer rather than decimals in the odds.
At the end of the day, the payout will still be R125 if you bet R100 or R1,25 if you bet R1.
Moneyline odds
Moneyline odds are used in America and quote the amount that will be won on a $100 wager (because its America we will use $ in our example).
The figure quoted in moneyline odds is either positive or negative.
When the figure is positive it shows how much the punter wins on a $100 wager.
When the figure is negative is shows how much the punter must be bet in order to win $100.
Example:
+400 means the bettor stands to win $400 on a $100 bet.
-400 means the bettor stand to win $25 on a $100 bet (the bettor would need to bet $400 to win $100).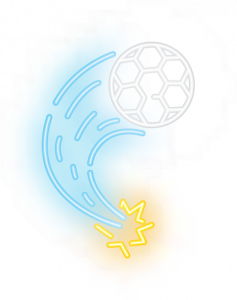 Favourites vs underdogs
One of the biggest factors in sports betting is favourites versus underdogs. Favourites are an athlete or team who have a record of excellence compared to the underdog who is less likely to actually win. Betting on the favourites will mean a far smaller payout than betting on the underdogs. In big matches the odds on the favourites can be as small as 1/1, while the odds on the underdogs are far higher. The South Africa versus Japan match, for example, stood at odds of 80/1 for Japan to win. This meant that if you put R100 on South Africa to win, your payout would be R101.25 if South Africa (the favourites) won. However, if Japan won (as was the totally unexpected outcome), your payout on a R100 bet was R8,100.00!
There is a very good reason why the odds are smaller when you bet on the favourite. The past history, skill, experience and overall results of the favourite usually mean that they are the better athlete or team and are expected to win. Manchester United taking on a 3rd division South African team would be expected to win. Muhammed Ali taking on an amateur boxer in his first-ever bout would be expected to win. And the odds reflect that.
But the unexpected does happen
One of the most glorious facets of sports is that, on any given day, anything could happen. The South African Rugby team, one of the best in the world, has lost to Italy and Japan, two teams waaaaay down the rankings of international rugby. New Zealand, another top three rugby team, have lost to Argentina, a team that were never expected to do anything but lose by record margins.
There are so many things that happen during a sports event that there is always the possibility of an upset: the conditions, the fitness of the athletes, the way the ref controls the game, the home crowd (a massive factor in sports), the belief of the teams or athletes.
Or maybe it's something a bit more underhanded?
How cheating affects sports betting
Sports betting is very susceptible to cheating. In an industry worth billions, there will always be someone trying to make a quick (million) bucks.
Sports is all about people and, unfortunately, people are people and people do as people do. When there is so much money at stake, the temptation to make a little extra on the side has proven to be too great for some players.
The infamous Muhammed Ali versus Sonny Liston boxing match is mired in controversy as people claim that Liston 'took a dive' and lost due to Mafia pressure.
The 'Cronje Affair' is an infamous case where the South African cricket captain, Hansie Cronje, together with two other players agreed to fix matches for Indian bookies.
Tennis, football, NFL, baseball, basketball, motor racing, athletics, every major sports code around the world has been, or has the potential to be, affected by unscrupulous bookies and players.
Even officials have been caught up in match-fixing scandals with FIFA being top of the corrupt dealings list.
Decisions by players and officials during the game are part of what makes sports so thrilling and unpredictable, but they can also be used to change a game's outcome.
Is sports betting legal?
Sports betting is commonplace around the world but the legality changes from country to country and even from state to state. In America for example, 23 states and territories have made sports betting legal but the rest still consider it illegal. In the UK sports betting is perfectly legal. And in South Africa spots betting is legal.
However, sports betting in any country is only legal when it is done through registered and licensed bookmakers.
Check local laws before you place bets in any country.
Play with the pros
Just like playing casino games for real money, betting on a sports event gives us a feeling of being personally and financially involved in a game. As such, we need to make sure we are doing our gambling in a trusted, professional and licensed environment.
There are hundreds of legal bookies around the world and hundreds of online bookies and apps for the passionate sports and gambling fan. Online casinos are starting to open up sports betting in certain cases so always check with your favourite online gambling partner for when or if they are offering you the odds to back your team.
As always, play responsibly. Check the odds. Don't bet with your heart, bet with your head. The unexpected is unexpected for a reason so follow the advice of the experts and, maybe, put a small bet down on the underdog just in case.
GAMES: 1000+
New Loyalty Rewards Program
100% deposit up to R25 000
South Africa's First Live Casino
Same Day Pay Outs
10% Weekly Cashback
#1 Ranked Online Casino Site
GAMES: 1000+
Brand new, innovative Online Casino

100% no wagering casino
Same Day Pay Outs
#1 Ranked Online Casino Site
GAMES: 1000+
Brand new, innovative Online Casino

100% no wagering casino
Same Day Pay Outs
GAMES: 1000+
New Loyalty Rewards Program
100% deposit up to R25 000
South Africa's First Live Casino
Same Day Pay Outs
10% Weekly Cashback