Online gambling safety tips
Online casinos and online gambling are super fun ways to spend some time winding down, and you could even make a little bit of profit while you play. But, as with anything related to the World Wide Web, there are nefarious individuals out there just itching to get their hands on your data – especially your financial information.
At Online Casino Review we are dedicated to giving online players all the information they need to make responsible choices and to enjoy their playing experience knowing that they can do so in safety.
With comprehensive reviews on online casinos and games, tips and strategies on games and a frequently updated blog with all the latest industry news, we bring the world of online gambling to you.
But there are still certain things that you can and need to do to make sure your online gaming is secure and safe.
Online gambling safety tips
Why is online safety so important?
In a word: scammers. Every time you go onto the internet you are potentially giving scammers access to personal information that they can use to steal from you. Sometimes it's just your details that they can sell on to third parties who then bug you with cold calls for products you don't want. Sometimes it's getting access to your financial information and cleaning out your bank account.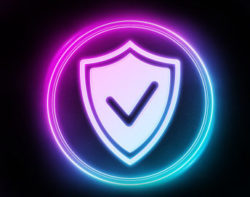 Why is responsible gambling so important?
There's a saying: "Don't throw good money after bad". This is even truer in the gambling world, online or land-based. It's easy to chase the next win, to keep betting hoping that you can make your money back.
Don't do it.
Gambling is fun. When you start losing too much money it's not fun anymore. And when you start going into debt it's far beyond fun and in the realm of a problem.
Watch how you gamble because, before you know it, it could ruin your life. This is why we encourage responsible gambling. It's also why we emphasise having fun rather than winning.
How can I protect myself online?
OCR suggests following these safety tips when you want to go to an online casino, or anywhere on the internet really.
Make sure the site you are visiting is secure. Check the address bar for a locked padlock icon.
NEVER give out personal information or bank details to any person or site you don't trust.
Always check that your online casino is licensed.
Read reviews on your online casino – if something is dodgy or their service is not great, someone will post it online.
Keep your financial information secure.
Always manually enter your login details and passwords, never choose the autofill option.
Keep your login details and passwords secure.
Never share your login details or passwords with anyone else.
How do I gamble responsibly?
As passionate online gamers ourselves, we know how easy it is to lose yourself in the games and hoping that the win is on the next spin of the reels or deal of the cards. These tips will help you make sure you don't get in over your head.
Only gamble with money you can afford to lose. If you had R100 in your wallet and you lost your wallet, would it be unfortunate or would it be catastrophic? If unfortunate, you can afford to gamble it. If catastrophic, maybe use it for what you need rather than what you want.
Set a budget. Work out how much you are prepared to gamble with. And then break it up into days or weeks. This will allow you to play for longer without going into debt.
STICK TO THE BUDGET. 'Maybe just a little bit more' quickly leads to 'how did I lose so much!'.
Set a time limit. When you're tired you make stupid mistakes so don't spend all night at an online casino. Set some time aside. Have fun. Walk away.
Gamble with your winnings. If you are on a lucky streak, set your bankroll aside and only use your winnings to play.
Gambling is not a job. Over the long run you will lose more than you win. All those stories you hear are there for a reason – luck! There's a reason why nobody writes articles about the salary they earn every month. It's the out-of-the-blue lucky winners that get the news because gambling is no way to earn a living, it's a way to have fun and relax.
It's only fun until it's not.
We hope these tips lead to a fulfilling online casino experience for you. Our mission at OCR is to give you all the support you need to enjoy the online casino world in safety and with responsibility.
If we can leave you with one thought before you log in to your chosen online casino, it's this:
It's always better to walk away and try your luck another day!
GAMES: 1000+
New Loyalty Rewards Program
100% deposit up to R25 000
South Africa's First Live Casino

Same Day Pay Outs

10% Weekly Cashback
#1 Ranked Online Casino Site
GAMES: 1000+
Brand new, innovative Online Casino

100% no wagering casino

Same Day Pay Outs
#1 Ranked Online Casino Site
GAMES: 1000+
Brand new, innovative Online Casino

100% no wagering casino

Same Day Pay Outs
GAMES: 1000+
New Loyalty Rewards Program
100% deposit up to R25 000
South Africa's First Live Casino

Same Day Pay Outs

10% Weekly Cashback