Baccarat is a game with an aura of mystique. First mentioned during the reign of Napoleon, and long seen as a game for the wealthy elite of France, it was brought into the public consciousness during the Royal Baccarat Scandal of 1891 and then made hugely popular through the antics of the suave British spy, 007, in Ian Fleming's James Bond novels.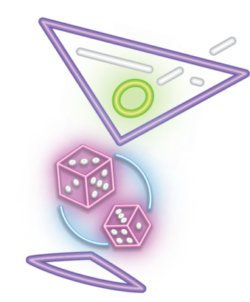 In real life, though, baccarat is quite a simple game and offers players the same thrills and fun as blackjack.
Top tier online casinos offer a variety of baccarat options – from the traditional to punto banco to chemin de fer to dragon baccarat. While some of the details may change from game to game, the basics remain true to the essence of baccarat.
There are also online video versions of baccarat but, as every true gambler knows, nothing beats sitting at the table, seeing the dealer, bantering with other players and watching the real cards unfold a story of victory or defeat.
What are the basics of online live dealer baccarat?
The rules are the same as physical casino baccarat. The only difference is you're playing over a web camera with digital software to show your bets and winnings and an online chat function so you can interact with other players and the dealer.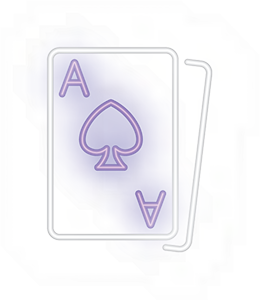 The rules:
The object of a game of live dealer baccarat is to bet on a two- or three-card hand that totals closest to nine points. The winner is whoever gets a total closest to 9.
Tens and face cards are worth zero points.
All other cards are worth their face value (ace is worth one).
If the total is more than ten, the second digit of the ten is the value of the hand – e.g.: a 7 and a 5 make 12, which is worth 2; or a 5 and a 9 make 14 which is worth 4, etc.
Gameplay:
Two cards are dealt for each hand. One hand is the 'player' hand, one hand is the 'dealer' hand.
A hand can get a third card depending on the points total.
The player hand is always completed first.
If the player total is 0 – 5, a third card is drawn.
The banker has a slightly different set of rules which we will tabulate below.
'Naturals':
A 'natural' is when the player or dealer gets a total of 8 or 9 with the first two cards. This automatically counts as a win to whoever draws the 8 or 9 and no other cards are drawn.
If the player and the banker have a natural, it is a tie.
Initially, two cards are dealt for each hand. The point totals determine whether or not either hand draws a third card.
 Playing hands:
Player when first two cards total: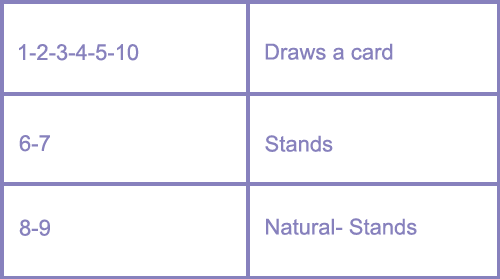 Banker: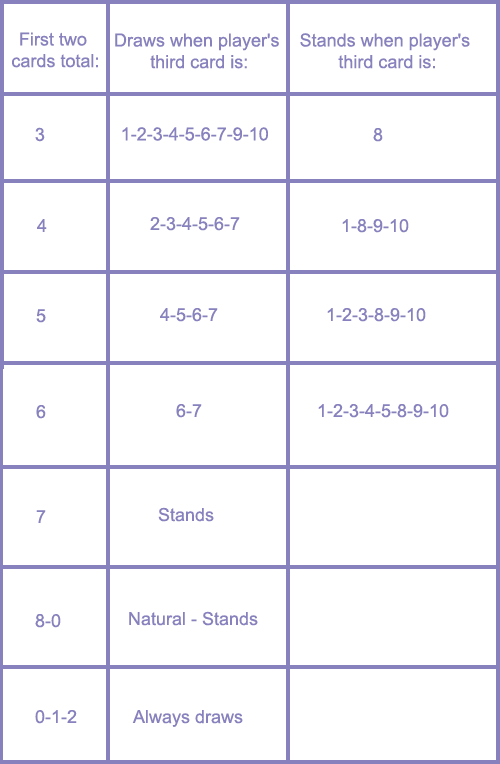 Winning:
The hand that totals closest to 9 wins.
Ties are drawn so neither hand wins or loses.
Where can I play online live dealer baccarat?
Live dealer baccarat, as with any live dealer game, is offered by top tier online casinos. Online Casino Review can recommend these online casinos for a safe, trusted and excellent live dealer baccarat experience:
GAMES: 1000+
New Loyalty Rewards Program
100% deposit up to R25 000
South Africa's First Live Casino

Same Day Pay Outs

10% Weekly Cashback
#1 Ranked Online Casino Site
GAMES: 1000+
Brand new, innovative Online Casino

100% no wagering casino

Same Day Pay Outs
#1 Ranked Online Casino Site
GAMES: 1000+
Brand new, innovative Online Casino

100% no wagering casino

Same Day Pay Outs
GAMES: 1000+
New Loyalty Rewards Program
100% deposit up to R25 000
South Africa's First Live Casino

Same Day Pay Outs

10% Weekly Cashback