Picking a list of best online slots to play isn't easy. In fact, it's pretty much impossible. There are just too many variables. 3-reel or 5-reel? High volatility or medium volatility? Mystery jackpot or progressive jackpot?
And what about themes? There are so many themes available that really appeal to players and that sway them to give the slots a try that it would take us eternity to come up with a definite list.
What we do know, and what we can do, is talk to our Online Casino Review team and see what online slots they think are the bee's knees and also check out what other players are saying online.
From our research we have found the Top 5 online slots (in no particular order) for South African Players for 2020
Reactoonz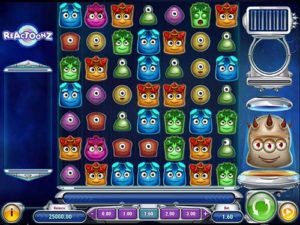 Reactoonz is an incredibly fast and fun online slots game from Play n' GO that showcases how the industry is using technology to create more immersive games with outstanding visuals and ides.
Reactoonz does away with the traditional reels and instead offers a 7×7 grid of cascading symbols that trigger wins when five of the same symbols touch horizontally or vertically. Picture Candy Crush or Tetris and you'll have an idea of how Reactoonz operates.
Its quirky alien theme and Minion-like sound effects make it incredibly fun to play but it is the anticipation and trying-to-predict-the-patterns-before-the-software-does that keeps us playing.
And the fast-paced action, wilds and cool bonus features.
Gonzo's Quest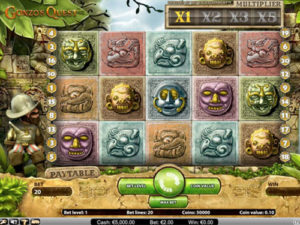 Gonzo has certainly moon-walked his way into our hearts as one of the funnest little characters in online slots.
Gonzo's Quest from NetEnt consistently ranks as one of the most popular online slots games on the market – for very good reasons.
Great graphics, a fun Incan-jungle theme, cascading play over 5 reels, wilds and scatters and bonuses and multipliers all add up to exciting gameplay, plus the addition of multipliers to really help rack those winning numbers up.
Guns 'n Roses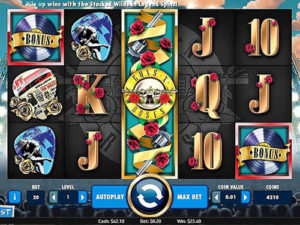 This is the perfect example of personal tastes – an online slots game that, for Gunners fans, brings the greatest rock band ever to life. The music, the band, the wilds and the multipliers and the bonus games – Welcome To The JUNGLE, baby!
NetEnt really went out of their way to bring the rock n' roll experience to life with this 5-reel slots game and it shows. From the mini videos to the animations to the free spins and especially to the music that you can rock along to while playing.
While this is an Online Casino Review favourite, there are other online slots that celebrate the rock world including Megadeth, Motorhead, Spinal Tap and Jimi Hendrix.
Book of Ra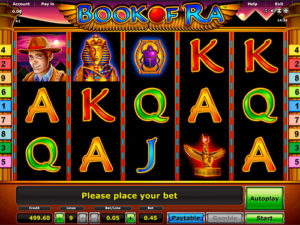 Book of Ra from Novomatic has gone several iterations and upgrades over the year to ensure it stays on the list of most popular online slots games. The Egyptian-themed, 5-reel online slots game is currently offering its latest version, Book of Ra 6 Deluxe for those players who want to put on their Indiana Jones gear and risk the curse of the pharaohs to get big rewards.
The game has been around for quite a while but that just proves its popularity. It's simple to play, fun and has great graphics so what's not to love?
Novomatic have done well to cash in on the popularity by regularly updating the game and the gameplay to keep online slots players returning to turn the next page in the Book of Ra.
Mega Moolah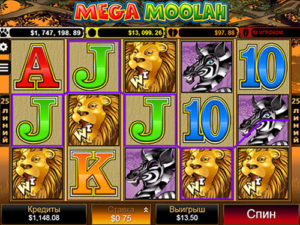 This is an obvious inclusion on this list because we're all dreamers at heart and we all dream of hitting that legendary progressive jackpot – and it doesn't get more legendary than Mega Moolah from Microgaming.
This is the BIG ONE, the progressive jackpot that changes fortunes and changes lives. Its Africa Safari-theme, 5 reels and 25 paylines are cool, but it's the bonus game where we all want to be. This is where you stand the chance of hitting the mega jackpots, the multi-million Rand score, the life of champagne and caviar (if that's your thing, we'll settle for endless Nando's and craft beers from around the world).
But it comes with a warning: VERY, VERY, VERY low RTP. Like around 88% low. So play this beast when you're willing to toss away cash in the HOPE of hitting it big.
Bonus try-it-now online slot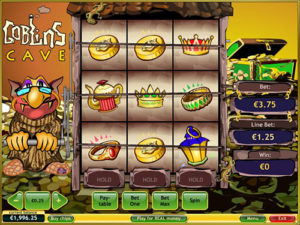 Goblin's Cave. If Reactoonz is quirky, then Goblin's Cave from Playtech is downright weird.
Playtech have decided to try something completely different with this mash-up of classic 3-reel, video poker and bonus game online slot. It's set in a fantasy world Goblin's Cave with the goblin spinning a wheel that is connected to the reels. The reels themselves are a 3×3 grid But you get two turns to hit a winning combo with every spin.
Your first spin sets the bottom reel in motion. When it stops you have the choice to re-spin all reels or choose to 'hold' the symbol on reel 1, 2 or 3 and set the rest spinning.
Very interesting. Very hands-on. And very much a different and fun way of playing our favourite online casino games.
Where can I play these online slots games?
All these online slots games are available at various online casinos that welcome South African online slots players. Be aware though that not all online casinos will offer all these games. Some online casinos are dedicated to a specific games developer and only offer their games, like Springbok Casino and Real Time Gaming.
Our favourite online casinos that offer our favourite online slots games are:
GAMES: 1000+
New Loyalty Rewards Program
100% deposit up to R25 000
South Africa's First Live Casino
Same Day Pay Outs
10% Weekly Cashback
#1 Ranked Online Casino Site
GAMES: 1000+
Brand new, innovative Online Casino

100% no wagering casino
Same Day Pay Outs
#1 Ranked Online Casino Site
GAMES: 1000+
Brand new, innovative Online Casino

100% no wagering casino
Same Day Pay Outs
GAMES: 1000+
New Loyalty Rewards Program
100% deposit up to R25 000
South Africa's First Live Casino
Same Day Pay Outs
10% Weekly Cashback