Walking into a land-based casino and hitting the casino games is easy: you pick a slot or table, put in your cash or hand over cash to the dealer, get your credits or chips, and you're ready to play. Likewise, cashing out is a breeze: just go to the cashier.
Online gambling at an online casino or mobile casino is slightly different. No cash changes hands. Rather, you deposit money into and withdraw money out of your online casino account from your bank account via virtual banking methods.
In this age of online shopping there are, thankfully, a LOT of different banking methods that are geared to the online gambling world and that most South African gamblers are perfectly familiar with, like credit cards, debit cards, EFTs, and direct transfers They are secure and trusted and have all the pros and cons of your usual online transactions. There are also some new methods that are in place to hide your transactions and protect your identity to a far greater extent than the usual banking options. These methods, like eWallets, gift cards, and cryptocurrency are very popular amongst gamblers who don't want their transactions to be seen by others 9maybe a suspicious wife or partner, or they're trying to play in territories that they aren't really allowed to play in, etc.).
The Online Casino Review team give you a comprehensive breakdown of all the options available to South African online casino players right here in our Guide to Online Banking Methods.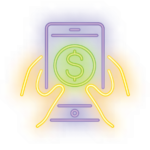 What are the Online Casino Banking Methods?
Anybody who has transacted over the internet knows the most common ways of transferring money from their own bank account to the account of a vendor or supplier. The online casino world is no different. You, as the player, need to get real cash from your bank account into your casino account (which is in effect the online casinos transaction account and reflects in your casino account as a cash or credit total that you use to play your favourite casino games).
As an internet vendor, the online casino needs to provide you with the best and easiest banking methods. These change from place to place around the world but are, in a nutshell, the following:
VISA and Mastercard are the world's biggest credit and debit card providers. They give players the chance to transfer money directly from their debit or credit card accounts into their online casino account.
Players must be aware though that Mastercard often blocks deposits from 3rd parties into the credit card account so it's easy to move money from your Mastercard credit card to another account (the online casino account), but you can't move money from your online casino account back into your Mastercard credit card account. You will need to first move it into your primary bank account and then into the credit card account.
Transacting with a debit or credit card is as easy as your normal online banking transactions.
Electronic Funds Transfers are transactions straight from your primary bank account into your online casino account. They work exactly the same as any other supplier you might be paying every month like your electricity or water or rental payments.
There are three main EFT methods: internet bank transfers, Easy EFT, and SID InstantEFT.
eWallets are seeing a huge rise in popularity amongst online gamblers as they offer a secure and protected banking method that puts a layer between the primary bank account and the online casino account. Essentially, players will set an eWallet account, transfer finds from their primary banking account into the eWallet account, and then from the eWallet to the online casino account. This does add an extra step to the process, but it is a very popular option for players looking to hide their gambling transactions or who want to budget effectively. Having available funds in your eWallet means you can only use those funds and don't risk your bank balance or credit card balance.
The most popular eWallets for online gamblers are Neteller, Skrill, and ecoPayz.
Wiring money directly to the online casino account is another popular and secure banking method but it comes with a unique drawback: the waiting times. Wire transfers typically take anywhere from a day to a week to reflect in your casino account, and even longer if you're withdrawing from your casino account back to your bank account. Waiting two, three, or even four weeks to see your money pop up in your bank account is not uncommon.
Gift cards are another popular form of payment in the online casino world, but we really don't recommend them. There are a few gift card payment methods out there, but they are not very secure and do leave you open to getting your money scammed.
Crypto is big news in the online casino world – there are even crypto casinos that deal exclusively in cryptocurrency. Cryptocurrency is great balance between normal banking and the more 'private' methods for those who are looking to transact with relative anonymity. But it does come with an added risk: cryptocurrency values fluctuate wildly. Today your crypto could be worth R100. Tomorrow it could be worth R10. Next week, who knows? R1,000?
This means that you are always gambling (ha!) with just how much you are going to get in value. You may deposit R1,000 worth of crypto into your online casino account, play and win R10,000, then withdraw your money and only get crypto worth R500. It's the Wild West of currency and could make you rich or break you completely so be careful.
Most high-end online casinos offer Bitcoin (the most famous, trusted, and transacted cryptocurrency) as a banking method.
What are the most popular banking methods for South African online gamblers?
By far the most popular banking method for South African online gamblers is credit or debit cards. VIA and Mastercard are everywhere in South Africa, so it makes sense that this is the most chosen method.
EWallets re growing in popularity though and South Africans who are worried about security are definitely embracing the extra layer of protection afforded by eWallets.
EFTs are also big. It makes depositing really simple and most online casinos use EFT to pay out your withdrawals anyway.
Bitcoin is still relatively rare most likely due to the cost of the cryptocurrency as well as the risks of losing value.
Wire transfers are very rare because no player wants to wait so long before playing or waiting for cash to reflect in their online casino or bank account.
Gift cards are pretty much non-starters in SA.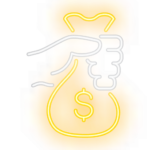 How do you deposit into an online casino account?
Most online casinos have the same deposit process.
Sign up and register to open an online casino account.
Go to the cashier page.
Select your chosen banking method.
Follow the steps to set up your method and your account.
Transact as you would with any other vendor.
How do you withdraw from an online casino account?
Generally speaking, withdrawing from an online casino is restricted to the same method you used to deposit. However, with certain methods (like Mastercard credit cards) you may be unable to transfer into that account. This will result in you having to set up a different withdrawal method and leads to a whole kerfuffle with the online casino.
It's best to check your chosen online casinos banking methods or payments page to see exactly what they require.
Most online casinos will give you the option of withdrawing money via EFT or bank transfer.
REMEMBER: online casinos can void all your transactions and balances if you transgress their terms & conditions or violate their wagering requirement policies so MAKE SURE YOU READ AND UNDERSTAND ALL Ts & Cs AND WAGERING REQUIREMENTS THOROUGHLY!
Why does the online casino want documentation with my banking methods?
The online casino industry deals with huge amounts of money and, because most transactions are online and there are a number of ways to keep your identity and transactions hidden or private, is open to huge risk when it comes to fraud and money laundering by criminal organisations.
This is why online casino licenses are so expensive and hard to get. And why they are so important when it comes to choosing a legit online casino to play at.
One of the biggest factors in getting – and keeping – a recognised online casino license is making sure all financial transactions are legal according to international banking laws. And this means that the online casino needs to make sure you, as a player and as a financial entity, are a true and real person not a front for a bunch of crooks. Unfortunately, this means you will need to provide certain documents as proof of your existence. ID, bank statements, residential address, photos: this is some of the proof that online casinos may ask for before allowing you to withdraw money.
Rest assured though, it's only to keep you safe and ensure the validity and legitimacy of your online casino.
Keeping it real
Playing real online casino games for real money is the pinnacle of any gambler's day, but you must be careful. Just like with any other transaction methods, always make sure you are banking safely and securely. And, just like any gambling activity, make sure you are playing responsibly!
GAMES: 1000+
New Loyalty Rewards Program
100% deposit up to R25 000
South Africa's First Live Casino
Same Day Pay Outs
10% Weekly Cashback
#1 Ranked Online Casino Site
GAMES: 1000+
Brand new, innovative Online Casino

100% no wagering casino
Same Day Pay Outs
#1 Ranked Online Casino Site
GAMES: 1000+
Brand new, innovative Online Casino

100% no wagering casino
Same Day Pay Outs
GAMES: 1000+
New Loyalty Rewards Program
100% deposit up to R25 000
South Africa's First Live Casino
Same Day Pay Outs
10% Weekly Cashback