How to increase your Poker performance
Poker is a game of skill and chance enjoyed by millions around the world. Previously you would have to go to a land-based casino or invite your mates around to enjoy a game but, with the rise of online casinos, your favourite game is just an internet connection away.
While this has obviously made life and poker fun that much easier, it has also brought the issue of the best way to play poker to prominence.
Online Casino Review brings you the best tips for increasing your poker performance, tips for the novice player and the seasoned pro.
Where to begin?
There are a ton of different poker variants and styles out there so we are going to concentrate on the most popular: Texas Hold'em. These tips can, mostly, be used across all poker types but they are especially useful for Hold'em poker.
Similarly, there are a number of online casino poker formats: video poker, table game poker, online tournament poker and Live Dealer poker.
Some tips work for all the different formats (like knowing your poker hands) and some only work for one or two formats (like working on your bluffing game).
The basics of improving your poker game across all formats
Understand the rules
It may seem obvious but – know the rules of the game. Do some reading, research online, but make sure you understand exactly how poker works before you play for real money.
Memorise the winning hands
Folding on a hand because you didn't realise you had a flush is not only unforgivable, it's also a huge waste of money. These are the winning hands from highest to lowest:
Royal flush (AKQJ10 of the same suit)
Straight flush (Five cards in sequence, same suit)
Four of a kind (Same card in all four suits)
Full house (Three of a kind and a pair)
Flush (Five cards of the same suit not in sequence)
Straight (Five cards in sequence, suit doesn't matter)
Three of a kind (Same card in three different suits)
Two pairs (Two different matching numbers or face cards)
One pair (Two matching numbers or face cards)
High card (If you do not have any matching cards, it's simply your highest card)
Good starting hands
Knowing when to hold and when to fold is integral to improving your poker game. A good pair of starting cards will always set you up to a good game.
A-A (pair of aces), A-K (ace king), K-K (pair of kings), Q-Q (pair of queens), A-Q (ace queen), J-J (pair of jacks), 10-10 (pair of 10s), 9-9 (pair of 9s), 8-8 (pair of 8s),7-7 (pair of 7s) are all great cards to begin thinking about a win.
Suited connectors are also good opening cards. Suited connectors are two cards of the same suit in succession and they often lead to a flush.
Bankroll management
Another seemingly obvious tip but one that is easy to forget or dismiss. Budgeting is incredibly important in any real money online casino game and must be stuck to strictly so you don't slide into a truly losing situation.
Mood
You must always be in the right mood to gamble but it is even more crucial in poker where your mood can affect your calls. The best mood to be in when gambling? Happy, looking forward to having fun, positive, understanding that you may lose. The worst mood? Depressed, angry, resentful.
One of the biggest mistakes that any player can make, and one which is closely related to mood, is alcohol consumption. Drunk players make stupid mistakes. Don't drink or do drugs if you're serious about your poker playing.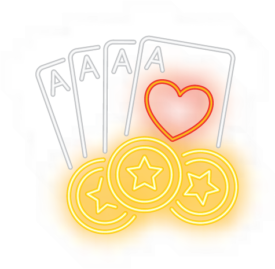 Bringing personality into improving your poker performance
For tournament poker players, those that play online against other players and Live Dealer players, there are specific game strategies and tips you should be aware of.
They don't make any difference in video poker games where you play against a software programme but can really help your online poker performance when playing against others, even friends.
Remove distractions
Switch off the TV or music centre. If you're serious about your game, then treat it like a serious game. You have to be prepared to use your skills and to focus on your strategies if you want to win.
Practice
Play free online games or no deposit games. Mix up cash games and tournament play. Play more games on low stakes tables.
Get a feel for your style and put your strategies to the test in situations that won't cost you too much of your bankroll. Then take your learnings to the bigger tables.
Analyze
Pay attention to your opposition. Even in games where you can't see the face or body of those playing against you, you can still start picking up patterns that can help give you an edge. Just remember, so can your opposition!
Don't be afraid to fold
Folding feels like giving up BUT is there really any sense in adding more money to someone else's pot? Losing an ante hurts far less than losing after a bunch of raises and counter-raises.
Be unpredictable
Don't create a pattern to your play. It makes it far easier for opponents to potentially read you.
Don't bluff too often
Nobody likes playing against someone who bluffs all the time. It's annoying and doesn't serve as a solid strategy. It also speaks to the previous point – serial bluffers are predictable and easy to read.
If you feel you have a good chance of pulling off the bluff, then by all means have a go. But do it sparingly.
It's about the game
Poker is actually quite a sophisticated and technical game when you get to playing it properly. It's one of the few casino games where strategy and skill actually count ALMOST as much as chance.
We hope that these quick tips from the Online Casino Review team help you with your online poker performance. If you want to find a good, trusted online casino where you can play the different types of online poker, we recommend:
GAMES: 1000+
New Loyalty Rewards Program
100% deposit up to R25 000
South Africa's First Live Casino

Same Day Pay Outs

10% Weekly Cashback
#1 Ranked Online Casino Site
GAMES: 1000+
Brand new, innovative Online Casino

100% no wagering casino

Same Day Pay Outs
#1 Ranked Online Casino Site
GAMES: 1000+
Brand new, innovative Online Casino

100% no wagering casino

Same Day Pay Outs
GAMES: 1000+
New Loyalty Rewards Program
100% deposit up to R25 000
South Africa's First Live Casino

Same Day Pay Outs

10% Weekly Cashback