Gather round closely, friends… no, a little closer than that; you need to cosy yourself right up to that table. Now, cradle those dice, roll them around in your palm, feel them out… is today your lucky day? Will the dice land just right and bring you the Big Win? It all hinges on that roll.
Kiss your fist good luck before you release those sharp-cornered little cubes of fortune, and let them fly! It's time to play craps, and no amount of fun poking at the game's name is going to stop us!
A history of craps
We love to marvel at the ancient provenance of the games we recognise. Poker, blackjack and roulette all have colourful histories with quick evolutions and wild variations. Craps, however, is the granddaddy of all casino games. In one or another form, this type of game that relies on the roll of dice (or any other token, including handy leftover knuckle bones) has been around for millennia.
Speaking of knuckle bones, the earliest record we have of a semi-formal gambling game that resembles craps comes from Ancient Rome, where, you guessed it, Roman soldiers would bet on the outcome of the roll of knuckle-bones on top of a shield.
Of course, it might also be a derivation of the Arabic game Al Dar. Either way, its longevity says something about humanity's fascination with the seemingly random outcomes of a few shakes and a flick.
The game's name and rules have gone through many iterations, including Asart, Hazard, and Crapaud. The version we know and love today came to New Orleans thanks to a wealthy gambler and politician, Philippe de Marigny de Mandeville in the 1800s, and when Las Vegas gambling was established in 1931, the game, which had until then been the common man's game, exploded in popularity among the formal gambling set.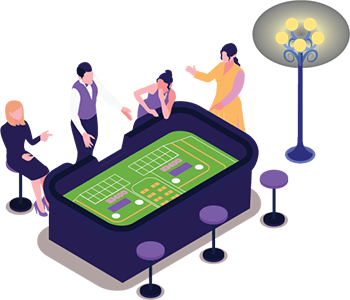 How to play craps
Playing craps is pretty simple, even though the betting options can seem a little confusing at first. Let's take it step by step.
Game play
Each player around the craps table takes their turn to be the shooter, ie, the person throwing the dice. When it's your turn, you and the other players place your bets on the board. You then start the round by rolling the dice or, if you are playing online, you would click the roll button.
If the total on the two dice on your first roll is 7 or 11, you have rolled a Natural and you win the roll and can roll the dice again. If the total is 2, 3, or 12, you lose the roll, but can roll again.
If the total is 4, 5, 6, 8, 9, or 10, the dealer will mark your point on the table grid and then take additional bets. You roll a second time, trying to get the same total. If you roll the same total number (land the point), even if the individual dice numbers differ, you win the round. If you land the point, you also start the next round as shooter again. If you don't land the point, you continue rolling until you either land it or roll a 7 (craps) and the next shooter takes over.
Betting
The game begins with all players betting on the pass line. You can choose whether you think the total will be 7 or 11 (pass) or 2, 3, or 12 (don't pass) and bet accordingly. If the shooter rolls any of these numbers, you will win or lose accordingly. If it is any other number, a point is established and the game enters the next phase.
In phase 2, players can bet on whether the dice will land the point and match the total (come), land a different number, or lose.
It's important to note that different casinos can set their own payouts for craps bets. This is also the case for different online casinos, and online craps games.
Scoring
Scoring occurs in both the first and the second roll as follows:
First roll (come-out roll)
7, 11: win/natural
2, 3, 12: lose/craps
4, 5, 6, 8, 9, 10: point
Second roll
7: lose/craps
Match point: win
Rules
Bets allowed and payouts may vary between casinos
The player whose turn it is to roll is called the shooter
During their turn, the shooter must have a bet on the pass or don't pass line
Bets are placed on the relevant section of the table. In phase 1, only pass or don't pass bets are permitted. In the second phase, other bets are permitted.
During the first – or come-out – roll, the dice must hit the back wall of the table
Both dice must be rolled simultaneously
A player only passes the dice to the next shooter once they roll craps (7) in the second phase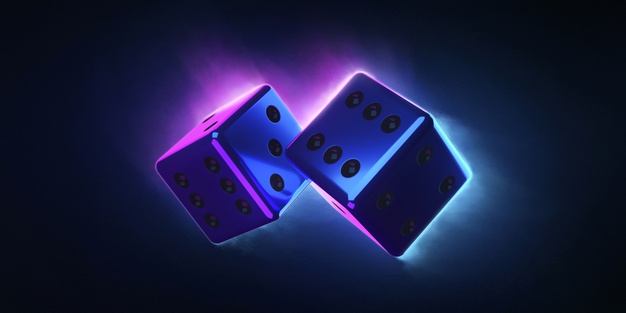 Craps variants
Bank craps
Old-fashioned craps-style games were traditionally player against player. However, bank craps, which is the most widely played in casinos, is players against the casino. This version is also known as Vegas craps and Casino craps.
Online craps
Online craps comes in two main varieties, being live dealer online craps, and video craps. Live dealer craps is usually the straightforward Vegas or Bank craps we know and love, complete with other players, albeit not standing shoulder-to-shoulder with you. Video craps usually also follows the same betting and scoring strategy, except it's just you and the game, no other players.
Simplified craps
In this pared-down version of the game, players win by rolling 2, 3, 4, 10, 11 or 12, and lose with a roll of 5, 6, 7, 8 or 9.
Crapless craps
In this version, you don't crap out. Instead, rolls of 2 and 3 in the come-out round are ignored, and rolls of 11 or 12 are immediate winners.
Winning strategies
It would take superhero levels of control to be able to precisely land exactly the combination of numbers you want every single time, and with RNGs controlling the rolls in the online environment, there's no way to influence the outcome of any given roll. That's why the best strategies for craps revolve around placing bets.
It helps to know what the average house edge is on the various craps bets to evaluate which are most likely to help you win. Remember that all bets and payouts are controlled by the casino, so make sure to compare house edge to payout to determine which bets are best. The house edge on different types of bets is:
Pass line: 1.41%
Come: 1.4%
Don't pass line: 1.36%
Don't come: 1.4%
Field bet: 5.56%
Proposition bet: 14%
Generally, the bets with a higher house edge will pay out more but come up significantly less often. With pass/don't pass and come/don't come, your odds are 50/50, but the payouts are lower.
Terminology
Ace: a die showing 1
Big red: 7
Box numbers: place bets 4, 5, 6, 8, 9, 10
Crap numbers: 2, 3, 12
Crapping out: rolling a crap number on the come-out roll, thereby losing the roll
Easy way: 4, 6, 8 or 10 without the double
Front: pass line
Hard number: the total on both dice showing the same number (eg, 3 + 3 = 6)
Hard way: betting on a hard 4, 6, 8 or 10
Inside numbers: bets placed on 5-6 and 8-9
Natural numbers: 7 or 11
Outside numbers: bets placed on 4-10 or 5-9
Puck: aka marker, a disc placed on the point number to indicate it to players
Working bets: bets in play for the next roll
Summary
Craps and games like it have been such an intrinsic part of our human history that it can show us a lot more about ourselves than just enjoying a game now and then.
It's a universal style of play that transcends language, betting on the outcome of a roll of some small items.
We encourage you to check out this game, if you haven't before, and to enjoy it responsibly and safely.
GAMES: 1000+
New Loyalty Rewards Program
100% deposit up to R25 000
South Africa's First Live Casino

Same Day Pay Outs

10% Weekly Cashback
#1 Ranked Online Casino Site
GAMES: 1000+
Brand new, innovative Online Casino

100% no wagering casino

Same Day Pay Outs
#1 Ranked Online Casino Site
GAMES: 1000+
Brand new, innovative Online Casino

100% no wagering casino

Same Day Pay Outs
GAMES: 1000+
New Loyalty Rewards Program
100% deposit up to R25 000
South Africa's First Live Casino

Same Day Pay Outs

10% Weekly Cashback