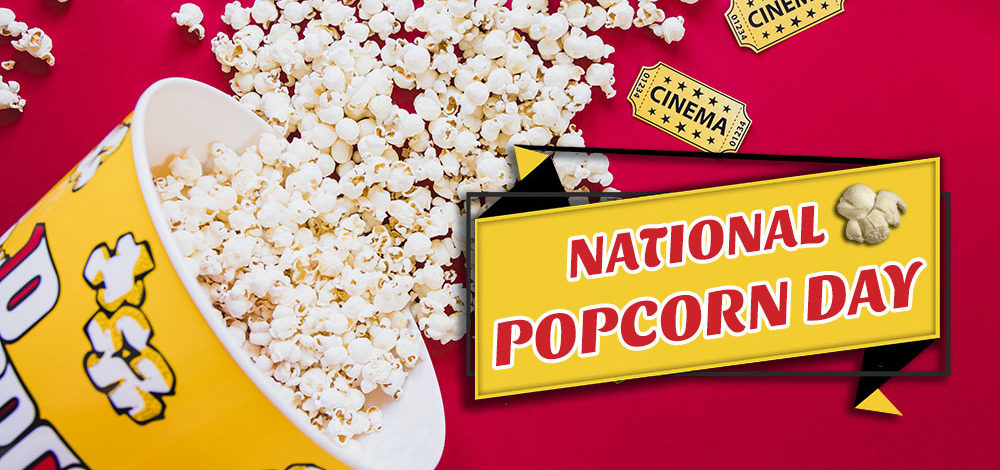 Top 5 online slots to play on National Popcorn Day
Wednesday 19 January is National Popcorn Day, a day marked to celebrate this ubiquitous snack. Most of the world is aware of popcorn in some form or other, and usually it's association with movies.
Did you know that popcorn actually goes back way further than movies? Duh, of course you did. They probably had popcorn vendors at the gladiator games in the Circus Maximus at the height of the Roman Empire, right? Actually, popcorn goes way, way back – to 3,600 BC at least. This is the earliest evidence of humans popping kernels of corn and it was found in a cave in New Mexico!
But popcorn vendors have been around for a while as well. Charles Cretors of Chicago, USA made a mobile popcorn machine to sell popcorn to people on the street and going to movies in 1885.
And popcorn has seen a massive increase in consumption since General Mills patented the microwave popcorn bag in 1981 with millions around the world adding their own twists to the snack.
Popular flavours around the world reflect local tastes. In Japan you can find flavours like milk tea and honey. In Nigeria, fruit chutney is the go-to flavour. And in India, Thai red coconut and anchovy garlic are popular. In Europe, sugar is preferred. And in Brazil they go all-out with a treat called Pipoca – popcorn with caramel and nuts.
Butter is still the most popular flavour worldwide to add to popcorn, even if it seems a bit weird to pour butter over a snack! According the late and incredibly great Sir Terry Pratchett, banged grains (the Discworld's name for popcorn) were "a tasteless snack which, if buttered and salted, tasted of butter and salt." Also, "probably the only edible thing invented by the Alchemists", a group more known for blowing up their laboratories, their guild house, and most of the surrounding neighbourhood than for their epicurean delights.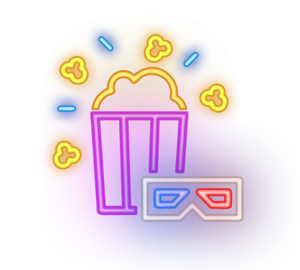 To celebrate, we have decided to find the Top 5 online slots to play on National Popcorn Day, slots that celebrate this I-don't-really-see-the-point-but-I'm-going-have-another-handful-anyway snack. But rather than looking for those slots that feature a cheesy red-and-white box of the sometimes fluffy and white, sometimes a bit burnt, but always with those darn unpopped bits right at the bottom, we have decided to find those slots that you can play while you munch on your own chosen flavouring (extra butter anyone?).
And what better accompaniment than a great movie? So, grab your banged grains, pick your chosen flavour, and get settled in for the Top 5 movie tie-in slots to celebrate National Popcorn Day (in no particular order, just 5 great slots with awesome themes!).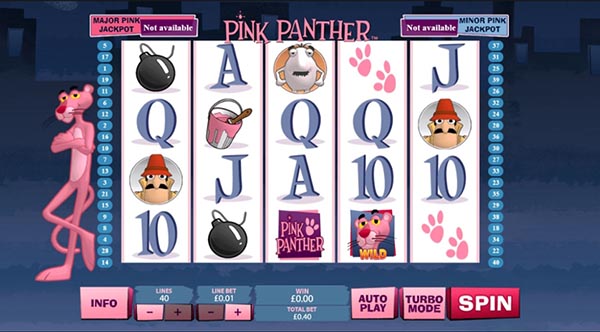 Pink Panther – Playtech
While this may not technically be a movie tie-in, it is based on the cartoons that continued the mishaps of the iconic bumbling French policeman, Inspector Jacques Clouseau, from the original movie starring the absolutely hilarious Peter Sellers.
Pink Panther from Playtech is a riot. It's charming, funny, and a throwback to Saturday morning cartoons sitting in front of the TV with cereal or popcorn to keep us munching.
It's a 5×4, 40-payline slot that has some amazing features. In fact, Pink Panther has 5 different bonus features that make this slot a must-play for online slots fans: Crack the Pink Code Bonus, Pink Pow Bonus, Wheel of Pink Bonus, Color Pink Bonus, and Pink Trail Bonus.
These features see our iconic big cat, the trenchcoated Inspector, and the weird Little Man (you'll know who he is when you see him) cracking safes, exploding bombs, painting the screen pink and blue, spinning wheels of fortune, and following the trail of pink paw prints to the prize – which is racking up big wins and going for a very respectable jackpot.
Pink Panther has a posted RTP of 93.99%, is full of scatters and wilds, and is an absolute gem of a slot.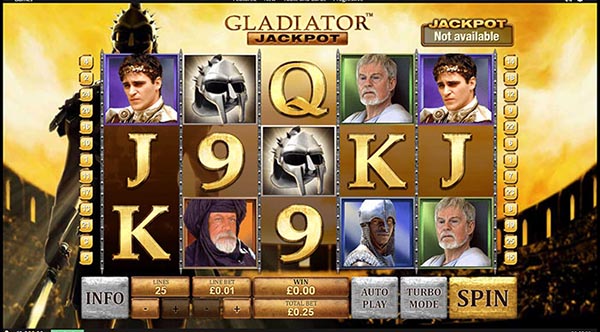 Gladiator – Playtech
Another great Playtech movie tie-in slot, this time based on the Oscar-winning movie starring Russell Crowe, Joaquin Phoenix, Connie Nielsen, Oliver Reed, and Djimon Hounsou.
If popcorn was a treat during the Roman Ages, then you can be sure that the spectators at the Roman Circuses were grabbing handfuls as they watched the gladiators do battle against each other or against wild animals. While the historical accuracy of the film may give historians a bit of a twitch, the power, passion, and sheer epic-ness of the movie was undeniable – as is the online slot game from Playtech.
Gladiator is a 5×3, 25-payline slot with a posted RTP of 96% and more bonus features than you shake a bloody gladius at. Free spins, wilds, scatters, and multipliers abound, but it's the Coliseum Bonus and the Gladiator Bonus that are what get the blood flowing and the crowds screaming.
The Coliseum Bonus unlocks a bonus game where you play a pick-and-click game to determine the number of Free Spins you win.
The Gladiator Bonus is triggered by the landing the gladiator's helmet (wild) on reels 2, 3, and 4. This unveils nine gladiator helmets of different colours across the reels (bronze, silver, and gold). You win the accumulated total of all the values assigned to each helmet.
Unless you uncover 9 gold helmets – then you win the progressive jackpot (where available). And that's not something to be taken lightly. The biggest jackpot won so far on Gladiator has been €2,374,847.22!
There is also a sequel called Gladiator: Return to Spin that is proving just as popular – and just as rewarding, with a jackpot of €1,510,172.82 being paid out in 2019.
My name might not be Maximus Decimus Meridius but even I can tell that this a game that offers the maximum thrills and jackpots!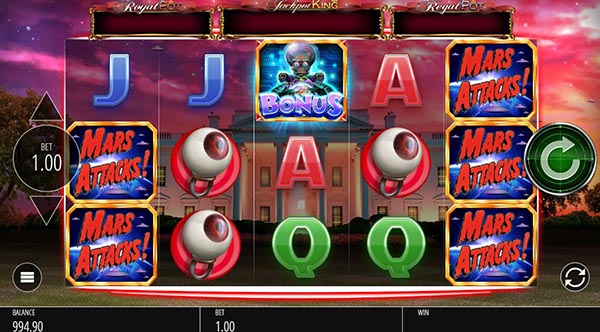 Mars Attacks! – Blueprint Gaming
Trying to capture the quirky, chaotic joy of this movie should have been impossible. The 1996 sci-fi/alien invasion comedy was directed by Tim Burton, featured an ensemble cast of some the biggest names in Hollywood (including the likes of Jack Nicholson, Glenn Close, Annette Bening, Pierce Brosnan, Danny DeVito, Martin Short, Sarah Jessica Parker, Michael J. Fox, Pam Grier, Natalie Portman, and so many more), has special effects by Industrial Light & Magic – and still only managed to get mediocre reviews from critics.
Thankfully, it has since gained quite the cult following and a growing appreciation for all its influences from Ed Wood to Akira Kurosawa to Stanley Kubrick, and from The Day the Earth Stood Still to Dr. Strangelove to every 1950s and 60s B-movie.  
Blueprint Gaming has taken this psychedelic melting pot and created a truly fantastic online slot. For real. Not only does it perfectly capture the chaos of the film, but it also brings those things that every slots player searches for – tons of bonus features in a smooth and enthralling slots game.
And when we say tons of features, we mean TONS of features. While the 5×4, 20 payline slot with a posted 96.44% RTP is certainly eye-catching in design, the fact that players can hit 6 different Bonus Features AND a multitude of modifiers during play.
Seriously. Random base game modifiers include Sub-Zero Lazer (re-spins with sticky symbols), Mega Shrink Ray (reels shrink but rows increase to 5 to give 3,125 ways to win), Expansion Cannon (mystery symbols transform into random symbols), Radiation Blaster (random wilds), and Abduction Beam (feature is played on a different reel set).
And that's just the modifiers. Land 3 scatters and you unlock the bonus features: Spy Hunter (cash picking bonus), We Come In Peace (improved cash picking bonus), DNA Analysis (5x Free Spins with Expanding wilds), Martian Takeover (10x Free Spins with Roaming Wilds), and Final Stand (unlimited Free Spins with a very unusual game mechanic added – we'll leave it for you to discover).
You'll need an extra-large bowl of popcorn to accompany this feature-stuffed slot!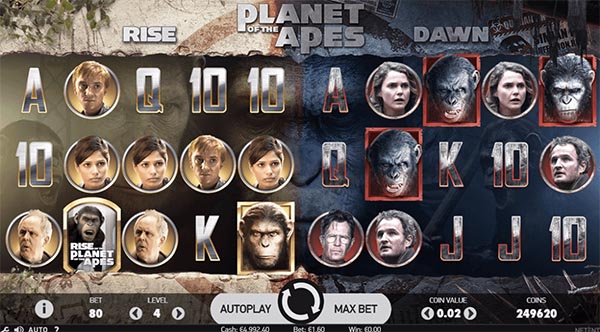 Planet of the Apes – NetEnt
You'd have to be a monkey to not see how awesome this NetEnt slot is. Based on the reboot of the franchise, Planet of the Apes takes the motion capture and CGI-inspiration of the movies (Andy Serkis as Caesar the Ape, amiright?) and brings it to life for online slots players.
The graphics and animations are AMAZING! But even more amazing is how NetEnt have added their own spin to the theme to create a true video slot in all senses of the word. They have taken not one but two of the reboot films to create this feature-filled slot: Rise of the Planet of the Apes (2011) and Dawn of the Planet of the Apes (2014), created unique bonus features for each, brought in clips from the movies and their own created content…
…and then served it up to us slots lovers on two side-by-side reels to give us a double the action and double the thrills.
And so many features. 2x 5×3 reels, Rise and Dawn Wilds, Rise Bonus (instant wins), Dawn Bonus (symbol substitution), Rise Free spins (10x Free spins on the Rise reel), Dawn Free Spins (15x Free spins on the Dawn reel, and many more.
This 96.33% RTP, medium volatility slot with big max wins is truly spectacular but – yes, we know, we hate adding in bad news – it will only be available for a short time longer as it's reaching its end-of-life stage.   
Here's hoping Playtech replace it with another banger of a game!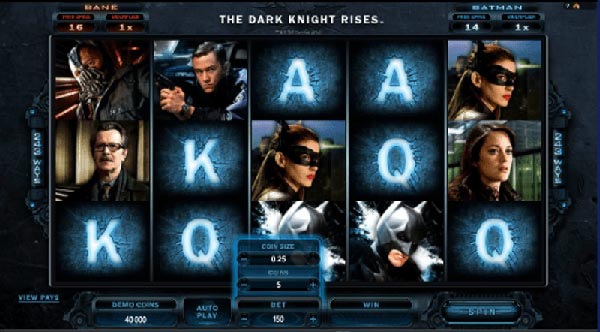 The Dark Knight – Microgaming
Microgaming take us to the neo-noir, dark and gritty streets of Gotham City and its brooding hero and psychopathic villains. Batman has been one of comic-and-movie-world's most enduring and popular heroes. His inner conflict, the-playboy-billionaire-by-day-masked-vigilante-by-night lifestyle, the absolutely batsh!* crazy enemies, the whole dark side of humanity storylines – they all create a hero we can all relate to (ok, maybe not the billionaire part) and get behind. And all the super-cool gadgets!
But super-cool is not even touching on Microgaming's rendition of Gotham's own creature of the night. The slots version of Christopher Nolan's 2008 masterpiece is not just a theme, it's an homage to one of the greatest and most influential films of the decade. Heath Ledger as the Joker was a true revelation – it gained him a posthumous Oscar after he tragically passed away before the film was released to the public – and players can relive this glorious role in various snippets from the film that have been included as features for the slot.
Great movie aside, the slot certainly lives up to its namesake. A 5×3 reel, medium volatility, 95.96% RTP game that has some wicked features like Free Spins, Re-spins, Substituting Symbols, multipliers, a bonus game, and a progressive jackpot (where available).
 The graphics are incredible. The addition of 'cinematic spins' makes the slot game more like watching a movie you can interact with rather than just sit and watch. The sound effects are perfect. All your fave characters and symbols make an appearance or are represented – Batman, Joker, Two-Face, Commissioner Gordon, the Bat logo, and more.
But what makes The Dark Knight slot the legend that it has become is not the mere brilliance from the designers – it's the insane-as-the-Joker-on-meth jackpots that Microgaming is famous for.
We've all heard about the massive payouts from Mega Moolah and Mega Fortune, but The Dark Knight has often paid out in excess of $1,000,000 to lucky gamblers. And then there's the player who walked away with €2.56 million!
Now that's a much better way of putting a smile on your face!
GAMES: 1000+
New Loyalty Rewards Program
100% deposit up to R25 000
South Africa's First Live Casino
Same Day Pay Outs
10% Weekly Cashback
#1 Ranked Online Casino Site
GAMES: 1000+
Brand new, innovative Online Casino

100% no wagering casino
Same Day Pay Outs
#1 Ranked Online Casino Site
GAMES: 1000+
Brand new, innovative Online Casino

100% no wagering casino
Same Day Pay Outs
GAMES: 1000+
New Loyalty Rewards Program
100% deposit up to R25 000
South Africa's First Live Casino
Same Day Pay Outs
10% Weekly Cashback