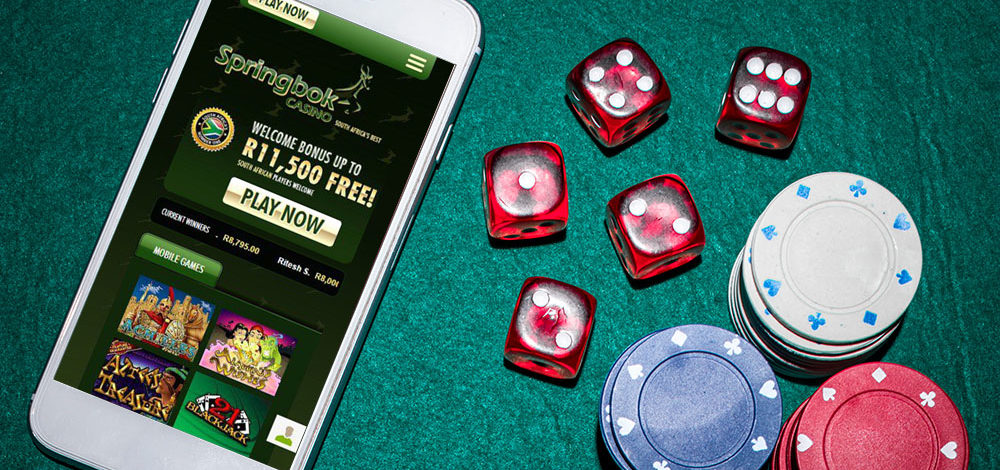 Springbok Casino mobile log in
Springbok Casino is one of South Africa's most loved and most played online casinos. As with any online casino worth their spin, Springbok also offers players the opportunity to play from anywhere at any time using their mobile device (smartphone or tablet).
While most reputable and top-end online casinos will have a responsive website – a website that adapts itself to whatever device you are using – Springbok Casino, like the beloved icon itself, jumps to a higher level by giving players the option to download a dedicated app for fast and secure access to their favourite casino games.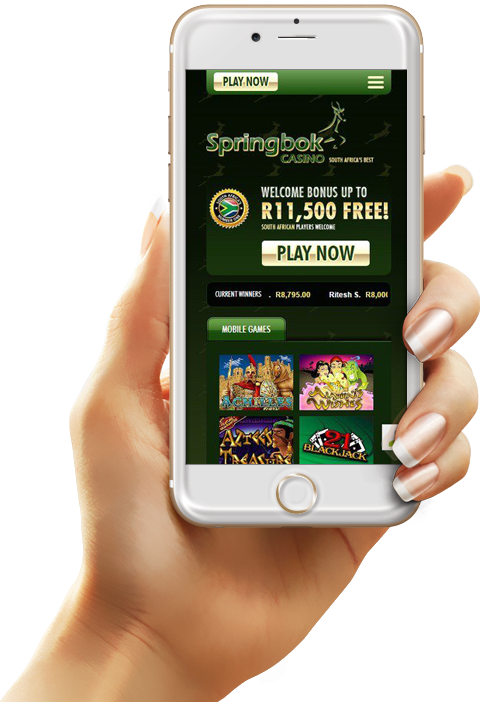 What should players do before they can log in to Springbok Casino?
It's pretty obvious but players will need to register with Springbok Casino before they can access all the great casino games on offer. For South Africans, who are wisely wary about throwing their personal info out into the digital breeze, Springbok Casino uses industry-standard encryption software to make sure your details and playing are kept secure. This goes for playing on a desktop or playing on a mobile device.
To register at Springbok Casino, follow these simple steps:
Click the 'Sign Up' button
Fill in the information required
This will include personal and banking info, as well as certain FICA documentation as required by law and the gambling license.
Players can skip the online registration by clicking the 'Mobile' tab on the home page to set up a mobile account instantly or clicking the 'App' to download the dedicated app. The Online Casino Review crew personally find it easier to set up usernames and password via our desktop and then access the Apps or mobile sites using our already created accounts and the existing username and password.
Getting your mobile gaming on
Once you have a registered and verified Springbok Casino account logging in is super simple!
If you have the App just tap the icon and you will go straight to Springbok Casino. Once you're there, type in your username and password and you're off to the races – or the reels, or the tables.
Alternatively, you can use your device's mobile browser to go to www.springbokcasino.co.za. Once you're there, click on the 'Mobile' tab to get the tailored mobile experience.
Remember, the online casino is responsive so players can access it directly from their mobile device without loss of quality or experience.
What mobile devices are supported?
The Springbok Casino mobile app (and access from your device browser) is compatible with iOS devices using Safari, and Android, Windows, and Blackberry devices using Chrome.
Is the Springbok Casino mobile app secure?
Springbok Casino is protected using industry standard encryption, so your info and play is secured. However, when you are playing using your mobile device, you must make sure you are using a trusted and safe Wi-Fi network.
Things to look out for when using the Springbok Casino mobile casino
Apart from the great games and generous bonuses and promotions, Springbok Casino often features special offers for users of the mobile casino. Check your inbox and the casino 'Promotions' page regularly for details.
GAMES: 1000+
New Loyalty Rewards Program
100% deposit up to R25 000
South Africa's First Live Casino

Same Day Pay Outs

10% Weekly Cashback
#1 Ranked Online Casino Site
GAMES: 1000+
Brand new, innovative Online Casino

100% no wagering casino

Same Day Pay Outs
#1 Ranked Online Casino Site
GAMES: 1000+
Brand new, innovative Online Casino

100% no wagering casino

Same Day Pay Outs
GAMES: 1000+
New Loyalty Rewards Program
100% deposit up to R25 000
South Africa's First Live Casino

Same Day Pay Outs

10% Weekly Cashback