The best romantic slots for Valentine's Day 2022
This is for all the lovers out there – lovers of online slots, lovers of South Africa online casinos, lovers of all things love and passion related!
Valentine's Day is on the way and we at Online Casino Review are always up for a day of romance and cheesy gestures of love. Chocolates, flowers, pudgy winged creatures with bows and heart-shaped arrows, terrible love songs on the radio, even the grossly overpriced specials at our favourite 'romantic' restaurants (does a lovely burger and wedges from Nando's count as a romantic meal?).
But it's on our most loved gaming sites that we really look to find Valentine's Day themed fun. Online slots games that bring romance and passion into the reels. Online casinos that give us South African online casino fans lovely Valentine's Day bonuses. And, of course, those awesome online casinos that bring us Valentine's Day slots tournaments where we get to take on other passionate players in vying for the top position on the leaderboards.
We are looking forward to hearing from the online and mobile casinos as to exactly who is bringing us South Africans some romance-themed tournaments and what those tournaments will be, but, while we wait in anticipation, we are going to give you 4 amazing Valentine's Day or Romance-themed online slots that you can play at your chosen online casinos for South African players just to get you into the mood for the Day of Love!
Also, we have avoided the obvious theme tie-ins of games like Jokers Wild with a cupid stuck in, or other slots games that have an obvious Valentine's element just added for the day and looked for online slots games that are dedicated to Valentine's or to romance and offer interesting graphics or features or stories.
Butterfly Lovers – Wazdan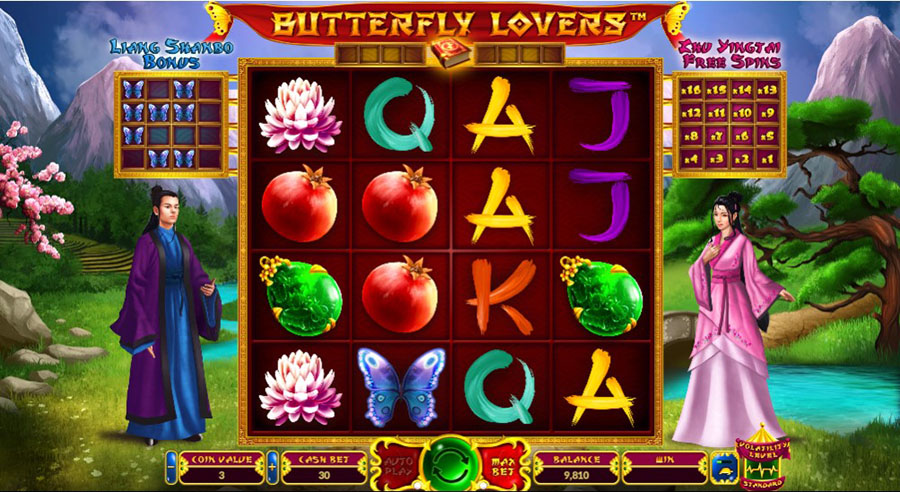 Let's just jump straight into one of the most intriguing games we've seen in while. Butterfly Lovers from Wazdan came to our attention during a PlayLive/Wazdan slots tournament – and you can colour us impressed.
Not only is this Chinese version of the Romeo and Juliet story (with a sort of happier ending this time) absolutely in line with the 'Love & Romance' theme of Valentine's Day slots, the gorgeous visuals and innovative gameplay make it a stunning slots game as well.
Butterfly Lovers tells the story of Liang Shanbo and Zhu Yingtai, two (in the words of Shakespeare) star-crossed lovers doomed to die because of the society around them. Unlike the Bard's play though, this classic Chinese love story has a somewhat happier ending as the lovers are transformed into butterflies and spend eternity together.
Romantic as F.
But there's more to Butterfly Lovers than just a great love story. The slots game brings some features that players are going to love!
The game's bonus symbols fill up to grids, one on either side of the reels. One grid is Liang Shinbo's and is filled whenever you land the blue butterflies. The other belongs to Zhu Yingtai and is filled with pink butterflies. Fill the grids and you unlock Bonus Spins for Liang Shinbo or Bonus Spins with Multipliers for Zhu Yingtai.
But beware the Magic Sack symbol as it will steal butterflies from your grids (although, to be fair, if you fill the Magic Sack bonuses you also unlock a Magic Sack bonus!).
The artwork is stunning. The soundtrack is perfect. The gameplay is amazing. And it will definitely get every romantic's heart fluttering like the wings of a butterfly.
Butterfly Lovers from Wazdan in a nutshell:
Reels: 4
Rows: 4
RTP: 96.25%
Features: Wilds, Scatters, Bonus Matrix, Zhu Yingtai Bonus, Liang Shinbo Bonus, Magic Sack Bonus, Free Spins, Multipliers, Locked Wilds.
Cupid's Strike II – Spinomenal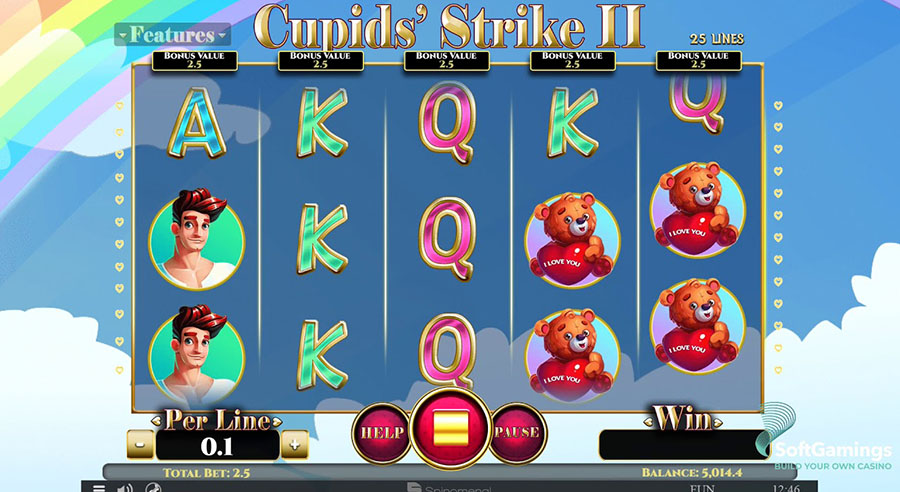 Cupid's Strike II falls firmly in the 'cute' section of the romance genre. With a look straight out of the Hercules cartoon, Cupid's Strike II has a great look and some pretty sweet gameplay features.
Love is definitely in the air as Cupid (all chiselled jaw, rippling abs, and heart-tipped arrows) helps our handsome hero woo the beautiful heroine. Although, and this really is our own opinion, if the fair damsel ever happens to spot ol' Cupid, her beau will be tossed like a week-old taco!
Still, with all the Valentine's Day staples of teddy bears (with little hearts no less), engagement rings, and rainbows in a fluffily clouded sky, Cupid's Strike II certainly has all the romantic symbolism any Valentine's Day fan could possibly hope for.
Plus, Spinomenal know that players look for more than a sweet theme and have stuffed the game with great features like Free Spins, Re-spins, Wilds, Multipliers, and even a bonus Spin n' Win game.
Cupid's Strike II from Spinomenal in a nutshell:
Reels: 5
Rows: 3
RTP: 95.06%
Paylines: 25
Features: Free spins, Re-spins, Win Multipliers, Bonus Reels, Wilds, Extra Wilds, Wild Multiplier, Bonus Game.
Full Moon Romance – Thunderkick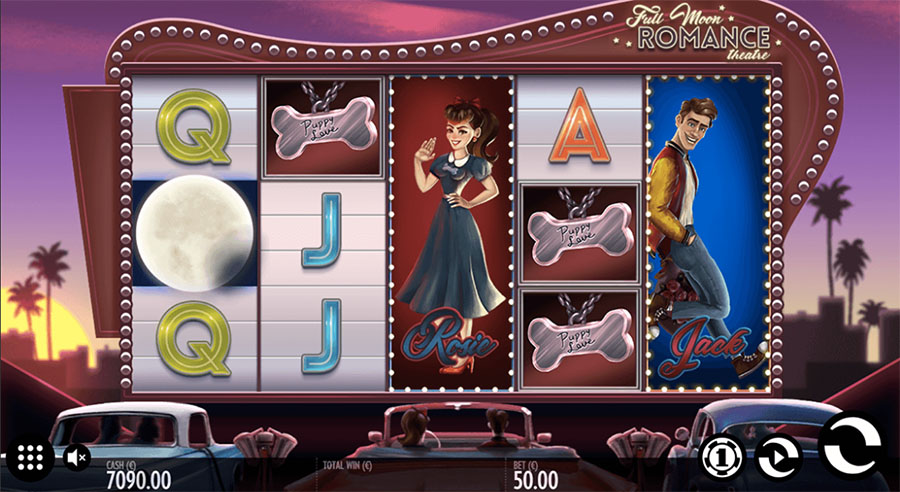 What do you think Grease (the movie with John Travolta and Olivia Newton-John) would have turned out to be if Michael Jackson's Thriller movie had had an influence? Or the other way for that matter?
Welcome to Full Moon Romance, an older online slots game (it was released in 2017) but one that still has ALL our favourite romance tropes: 50s styling and fashion, drive-in movie theatres, a fantastic slide guitar soundtrack, and yes, WEREWOLVES!
Land three or more Full Moon symbols and our sweethearts, Jack and Rosie, lose more than their inhibitions – they lose their humanity as the wolf within comes out!
As do win-racking Free Spins!
Full Moon Romance is full-on fun for any fan of romance, werewolves, 50's or just great slots game with loads of features in general.
Love is in the air, but so is the full moon so lovers (and players) beware!
Full Moon romance from Thunderkick in a nutshell:
Reels: 5
Rows: 3
RTP: 96.1%
Paylines: 15
Features: Wilds, Scatters, Free Spins, Clone Bonus (an expanding wild feature).
Romeo and Juliet – Pragmatic Play

Is there any love story more enduring – or more heart-breaking – than Shakespeare's Romeo and Juliet? The tale of star-crossed lovers is as powerful and moving today as it was when the Bard penned it centuries ago. Pragmatic Play have taken this famous tale and turned it into a phenomenal online slots game that has all the iconic images of the play: Romeo, Juliet, the Nurse, Friar Laurence, daggers, poison, and a white rose. For those who don't know why a rose is so important, we urge to go find the "a rose by any other name" speech by Juliet. Beautiful!
Our love of Shakespeare's language skillz aside, What Pragmatic Play have done so well is add a feature that truly brings the story to life: the Romeo Wild symbol appears on reel 1 and moves from left to right (awarding free spins). The Juliet Wild symbol appears on reel 5 and moves from right to left (awarding free spins). If they meet in the same reel, they expand and award 25x Free Spins. It's like they are searching for each other across the reels.
Epic story. Epic slot.
Romeo and Juliet from Pragmatic Play in a nutshell:
Reels: 5
Rows: 3
RTP: 96.18%
Paylines: 25
Features: Wilds, Free Spins, Re-spins.
Nothing hurts like a broken heart
The flip side of all the lovey-dovey goings on of Valentine's Day is the pain of heartbreak, when a relationship doesn't work out, when a love is not returned, when a crush simply has no interest in you – or when a provider has an amazing slot that you really want to play but your country is on the restricted list. We're looking very accusingly at you Microgaming! Any Valentine's Day list from any good provider of online slots info always includes Immortal Romance and it's driving us nuts! It looks and sounds amazing, but we are 'not allowed' to even test it out!
AND they've launched a Mega Moolah version, nogal!
Sigh.
Heart. Broken.
Anyway, on to happier Valentine's Day tidings. Most of our favourite online casinos that actually welcome South African players will be holding Valentine's Day promotions so keep checking back and we'll bring you all the heart-pounding news as soon as we get it!
All the world needs is love so go out and love your day!
Start 2022 with a BOOM! at the PlayLive Booming Slots Tournament
What better way to get into the groove of a new year than with not one but TWO epic slots tournaments brought to you by PlayLive and Booming Games?
Last year saw our players going head-to-head in two Booming Games slots tournaments – the Guy Fawkes Slots Tournament and the Ka-BOOM Slots Tournament – that certainly were explosive and proved beyond a shadow of a doubt that Booming Games are pros at bringing excitement and winning plays to South African slots fans.
This year, PlayLive is proud to partner once again with Booming Games to start our new year with two slots tournaments that are guaranteed to be a blast. The Booming Tournament not only gives PlayLive players the chance to take on the leaderboard for the big wins, it also features a slots tournament that is split into two stages. Each stage lasts two weeks and each stage has its own prize pool of R10,000.
But the 'reel' big deal?
The Booming Tournament will feature a host of brand-new enthralling games from Booming Games.
What better way to introduce our slots supporters to new thrills than with a fat, juicy pot at the end of two weeks of exhilarating tournament play?
Enter on the PlayLive Tournament page and check to see what new slots you can play to get your win on.
All about the Booming Slots Tournament from PlayLive and Booming Games
The tournament runs from 15 January 2022 to 15 February 2022.
The tournament is split into two stages.
Stage 1 runs from 15 January 2022 to 31 January 2022.
Stage 2 runs from 30 January 2022 to 15 February 2022.
The prize pool for EACH stage is R10,000 – R10,000 for Stage 1 and R10,000 for stage 2.
All play on the qualifying slots is eligible for tournament entry once you have bought in.
Buy in is R10,00.
Rebuys are available during the tournament period.
Results and positions will be displayed on the tournament leaderboard.
Booming Games is providing a selection of its latest release games.
What games are eligible for the Booming Slots Tournament from PlayLive and Booming Games?
Booming Games are showcasing some of their newest games at the Booming Slots Tournament. The latest tech, the thrilling-est play, the biggest bang of the year so far!
Each stage will be dedicated to the latest releases from the international game's provider and the PlayLive Tournament page will keep all our players updated.
Cash Pig
A 5×4, 30-payline slot with a Las/Vegas/glamour/all the bling of the fast-lane theme and featuring Piggy Bank, Free Spins, Minor Elimination, and Major Upgrade.
Book of Tombs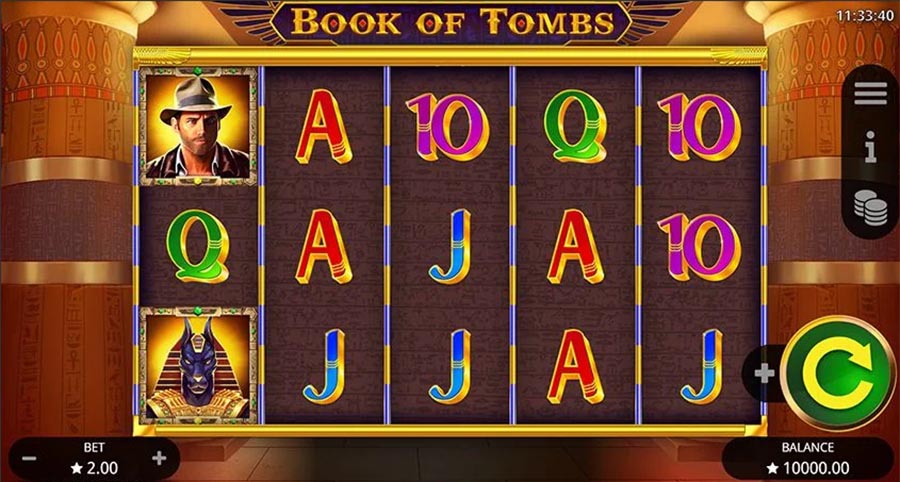 A 5×3, 10-payline slot with an Egyptology/Archaeology/Explorer theme and featuring Unlimited Free Spins, Expanding Symbols, and a Gamble function.
Money Moose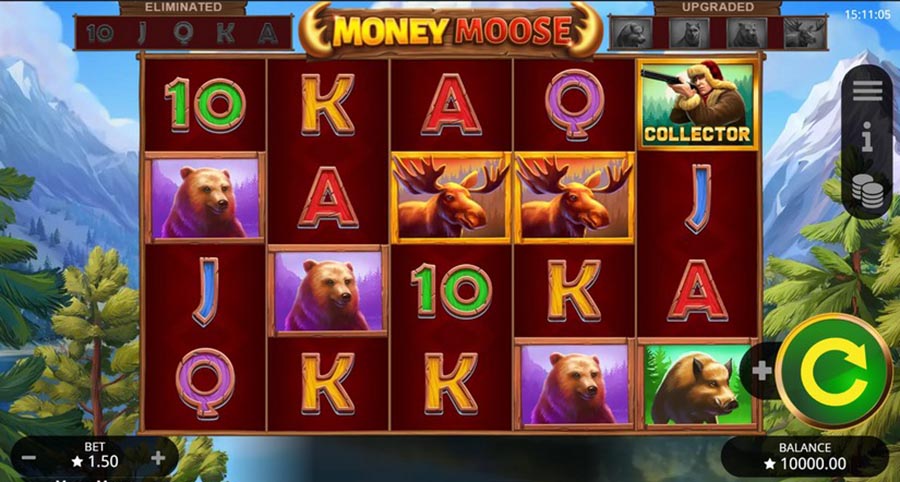 A 5×4, 30-payline slot set in the Wilds of the North American wilderness and featuring Shoot 'n Collect, Free Spins, Minor Elimination, and Major Upgrade.
Super Boom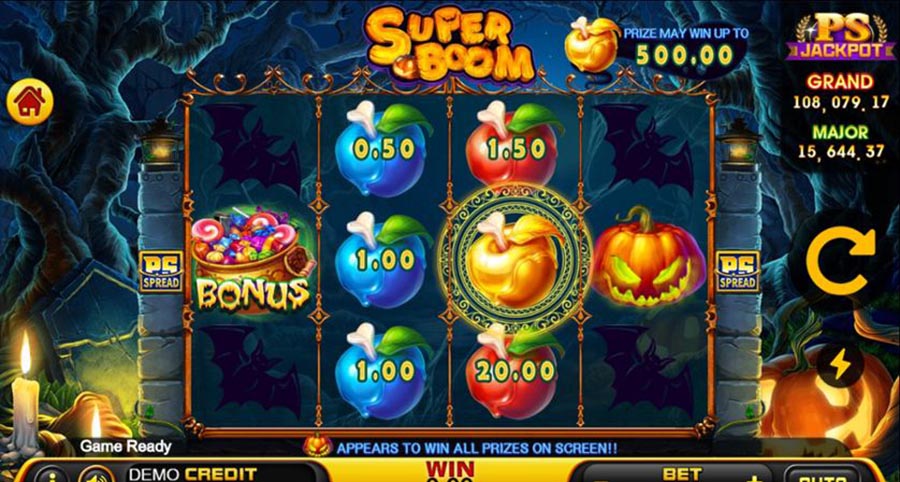 A 5×4, 12-payline slot with a superhero/bank heist theme (super quirky as well!) and featuring Random Wild Reels, Free Spins, and Wild Multipliers.
BOOM! (mic drop)
It's the best way to kickstart ourselves into a new year – with a massive dose of thrills and challenges! The Booming Slots Tournament promises new slots games, new thrills, new wins, and the perfect breath of fresh air to reflect a perfect start to a fresh year.
Online Casino Promotions – genius or gimmick?
The online casino business is BIG and getting BIGGER with new virtual gaming salons opening every day. So how do they attract new users? Or entice seasoned gamers to move to their casino?
Casino Promotions.
Like any big business that has a lot of competition, online casinos are constantly offering unique and valuable bonuses to bring in new business and reward (and retain) existing business. Think of online casino promotions as the sales and bonanzas and specials that your big chain grocery stores offer to get you buying from them.
For the discerning virtual gamer, these promotions are genius as they get to play for even bigger rewards. For the online casinos, these promotions are genius because they bring in players to try new games and new casinos and generate interest and excitement.
So, all-in-all, online casino promotions are genius!
What are online casino promotions?
It's a bonus that players get for a number of reasons. Registering or signing up. Making their first deposit. Playing regularly.
Promotions are the best way for an online casino to get ahead of the competition. Sure, the games on offer are hugely important but studies are showing that the better the bonus, the more players will try out the casino.
What types of online casino promotions are there?
As mentioned above, there are a number of promotions that casinos run. The most common of these are:
Welcome bonus
Also known as a sign-up bonus, this type of promotion rewards new players for registering with an online casino. The most common welcome bonus is called a no deposit bonus. This means that the online casino will give a player some money or credit so they can try out the platform and the games without depositing their own money first. It's a great way to drive interest and let players experience the casino with no risk.
First deposit bonus
When a player decides its time to start gambling with real money and make a first-time deposit into their casino account, they often get a first deposit bonus. Usually this takes the form of a match bonus, where the casino matches the amount the player deposits with the same amount.
Loyalty bonuses
Long term and VIP players often get additional bonuses on a regular basis. This is a reward for their loyalty and a sign of the casinos appreciation.
Where can I get an online casino promotion?
Easy. Have a look for an online casino that interests you. Check their website for any promotions that are on offer. Sign up and take advantage of being a player.
Or, even easier, just have a look at the best bonuses and promotions on offer for the South African gamer right here at Online Casino Review. We have reviewed hundreds of online casino offers and chosen the best. From welcome bonuses to free spins to specific promotions on specific machines, its all waiting for you right here.
GAMES: 1000+
New Loyalty Rewards Program
100% deposit up to R25 000
South Africa's First Live Casino
Same Day Pay Outs
10% Weekly Cashback
#1 Ranked Online Casino Site
GAMES: 1000+
Brand new, innovative Online Casino

100% no wagering casino
Same Day Pay Outs
#1 Ranked Online Casino Site
GAMES: 1000+
Brand new, innovative Online Casino

100% no wagering casino
Same Day Pay Outs
GAMES: 1000+
New Loyalty Rewards Program
100% deposit up to R25 000
South Africa's First Live Casino
Same Day Pay Outs
10% Weekly Cashback