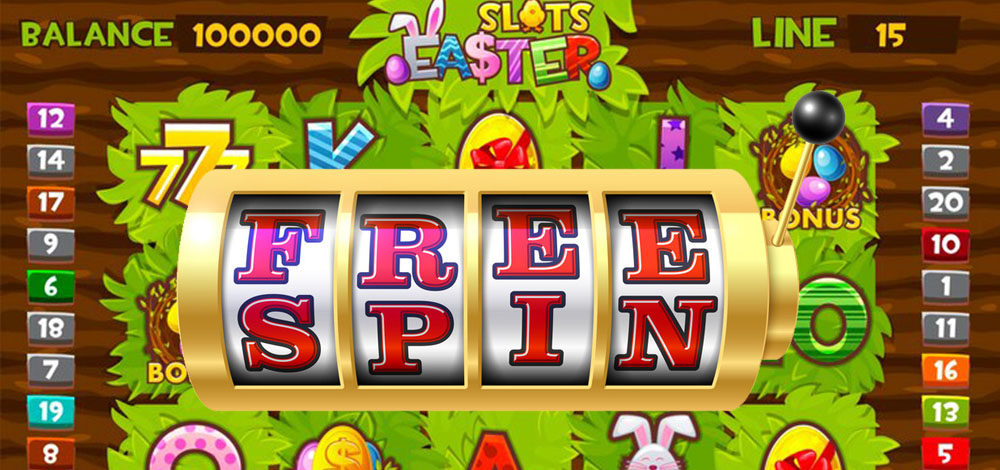 5 Best Easter slots 2022
Rabbits and chicks and eggs and baskets and chocolates and hot cross buns – and an awesome long weekend!
Easter in South Africa is characterised by a lot of commercial and retail marketing of chocolate, families staging elaborate Easter egg hunts, a little less actually understanding the whole purpose of the Easter period from a religious point of view, and a mad scramble by employees to put in their leave days for a bit of a break. This last one may seem a bit out of place for a long weekend but, for those in the know, it can actually be a massive windfall in terms of using a few leave days to score a whack of time off. This year, for example, if you book 6 days of leave during April (19th, 20th, 21st, 25th, 26th, and 29th of April) you will get a massive 18 days in total counting the weekends. It's all those sweet public holidays that add up to why this is such a popular time to get away from the desk!
Easter as a Christian religious observance begins with Ash Wednesday (Wednesday 2 March for 2022) and lasts for 40 days, culminating in the celebration of Holy Week: Palm Sunday, Holy Monday, Holy Tuesday, Holy/Spy Wednesday, Maundy Thursday, Good Friday, Holy Saturday, and Easter Sunday.
March/April is also the time of Passover or Pesach for the Jewish faith, a very important and widely followed holiday that celebrates the exodus of the Israelites from the land of Egypt.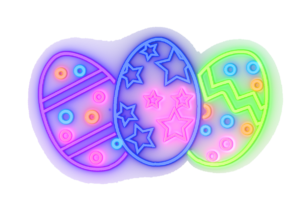 So, what's with the bunnies and the eggs?
How do the bunnies and the eggs fit into what is, in reality, the celebration of the brutal torture and death of a religious icon?
Well, remember that the main focus of Easter in the Christian rite is the resurrection. And eggs are a very old symbol of rebirth and new life. They are also a symbol of fertility and, in the Northern hemisphere at least, Easter is celebrated around the same time as Spring.
As for the mystery of the Easter Bunny, German Lutherans had a custom of the 'Easter Hare', an anthropomorphic bunny who judges whether children were good or bad and rewarded the good ones with sweets and toys from its basket. Very similar to Santa Claus and a custom that soon travelled the world.
How about some egg-cellent slots for Easter?
Yep, we went there, we did the eggs-crutiatingly painful egg-cellent pun. We thought it would be bunny.
Bad puns aside, the Easter weekend is fast approaching and, as a consequence of all the public holidays, is one of those times that you really don't want to be on the roads. Traffic stretching for kilometres, the highest death tolls for any holiday period, crammed holiday destinations – it can sometimes juts be a better option to take some time for yourself and stay at home or volunteer to man the helm at the office (it's normally a very quiet time at work anyway).
But whether you decide to hit some reels on holiday, at home, or during quiet spells at the workplace, Online Casino Review have chosen 5 Easter-themed online slots that will appeal to any South African fan whether you are celebrating Easter or not.
Be aware though that we have chosen 3 traditional Easter-type slots and two slots that have a bunny or egg theme not related to Easter but still offering some amazing slots play.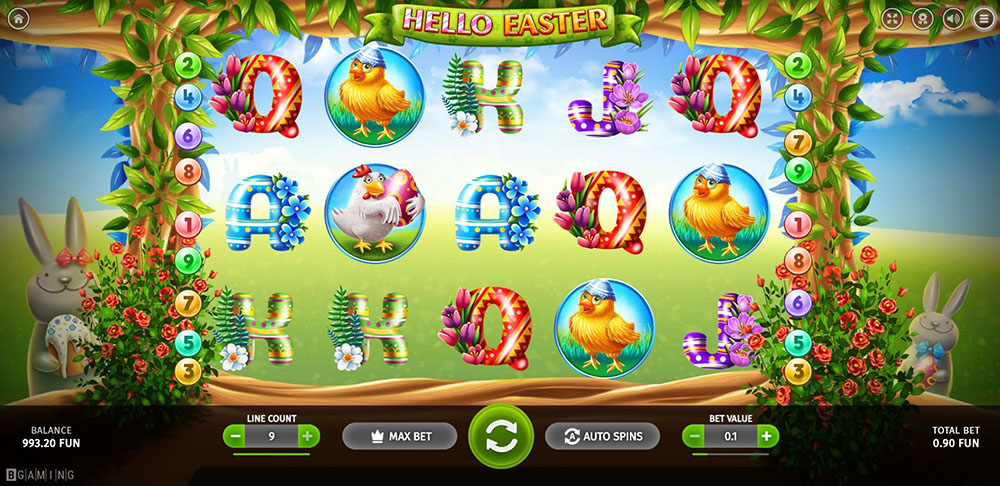 Hello Easter – BGaming
BGaming is a very well-known provider for South African online slots players and they are known for bringing great graphics and gameplay to life. While Hello Easter doesn't offer a lot in terms of added features, there is a gamble option for those slots players who feel that they can double their win by picking either a bunny card or a hen card.
What makes Hello Easter so appealing is this simplicity. When you're trying to relax or having a quick spin during some downtime, you appreciate the less complicated online slots. And the super cute graphics and idyllic pastoral setting of Hello Easter will have you unwinding in no time.
Hello Easter in a chocolate egg-shell:
Name: Hello Easter
Provider: BGaming
Reels: 5×3
Paylines: 9
RTP: 96.5%
Features: Gamble feature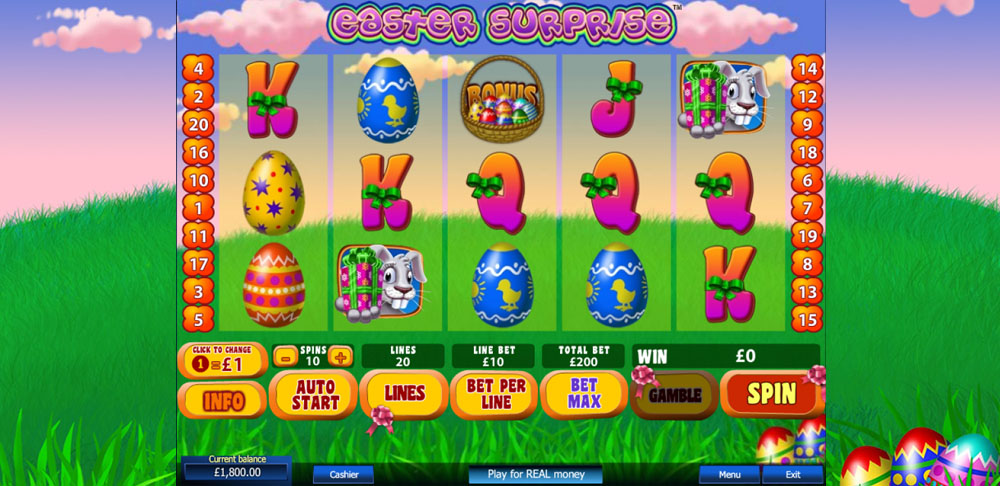 Easter Surprise – Playtech
Playtech bring the happy to happy easter with a surprisingly fun slot game. Easter Surprise has all the usual bunnies and eggs and baskets we would expect from a themed slot, but ramps up the gameplay with some excellent features.
The graphics are really simple but also really vibrant and your attention is held by the gameplay rather than the artwork, The reels spin quickly, the simple sound effects build as the reels spin, wins are frequent, but it's the scatters, wilds, free spins, and bonus game that will have you hitting that spin button.
And the whopping 10,000x multiplier!
Easter Surprise from Playtech looks simple (and adorable) but the bonuses are serious! Hit 3x Easter Surprise scatters and unlock 10x free spins with a 3x multiplier. Hit 3x Bonus baskets and unlock the Pick Me game where you choose Easter eggs for instant wins!
Easter Surprise in a chocolate egg-shell:
Name: Easter Surprise
Provider: Playtech
Reels: 5×3
Paylines: 20
RTP: 97%
Features: Wilds, scatters, multipliers, free spins, Pick Me bonus game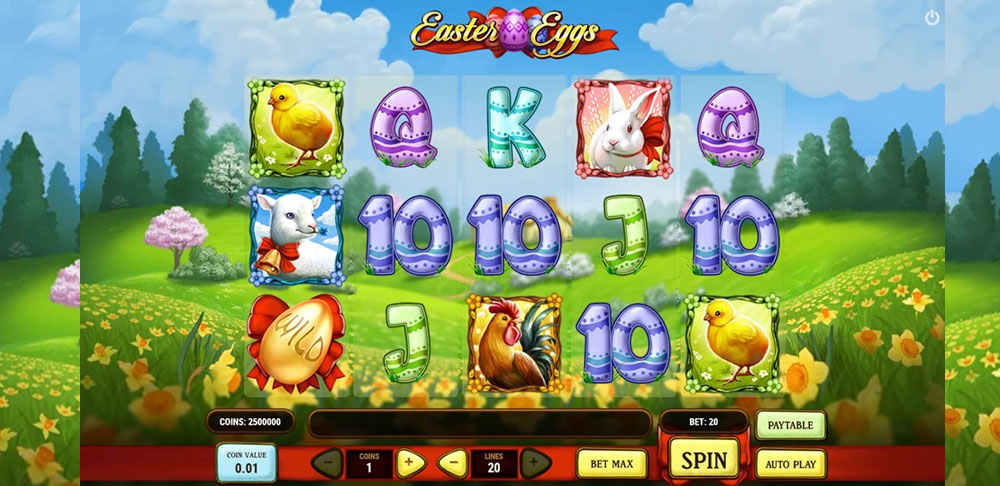 Easter Eggs ­– Play'n GO
Play'n GO have brought us quite an intricate slot in the form of Easter Eggs, a 5×3, 20-payline slot with exquisitely detailed graphics and a pleasant soundtrack. And a bunch of features.
Another pastoral background with bunnies and chicks and eggs and a sweet candy look to the lower paying symbols, Easter Eggs ups the ante with some superb playability and three features that will thrill any slots lover: Wilds that double your win, Scatters that are multiplied by the total bet staked and activate Free Spins, and a bonus Pick Me game.
Land 3 or more Scatters to trigger Free Spins where you get to choose the number of spins and the multiplier you get: 5x Free Spins with a 6x multiplier, or 10x Free Spins with a 3x multiplier, or 15x Free Spins with a 2x multiplier.
Land 3x eggs in a basket symbol to trigger the Pick Me bonus game where you get to choose from three eggs to reveal prizes and maybe even a final egg and a big win!
Easter Eggs in a chocolate egg-shell:
Name: Easter Eggs
Provider: Play'n GO
Reels: 5×3
Paylines: 20
RTP: 96.75%
Features: Wilds, scatters, free spins, multipliers, Pick Me bonus game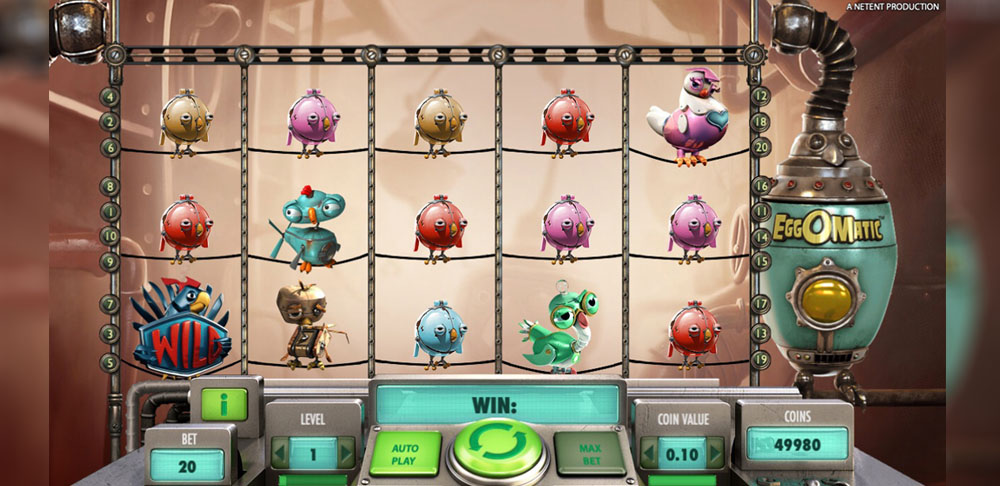 EggOMatic – NetEnt
EggOMatic is a slot that we have mentioned before and, while it's not a traditional Easter-themed slot, we think that it's one of the most creative and engaging online slot games out there – and deserving of a place in our Easter playlist just because of the great egg theme!
NetEnt really hit the ball out of the park with this fun, amusing, thrilling, and immersive online slot. The futuristic assembly line, the weird robot birds, the retro egg-shell tones, they all combine to create a fantastic slots experience.
And then you add in the features.
Spreading Wild eggs. Free Spins eggs. Coin Win eggs. And the Surprise eggs with their hidden features.
EggOMatic is truly unique, immensely fun, and utterly creative online slot that showcases NetEnt's drive for quality and creativity and will have you trying to crack those eggs open until the rooster crows.
EggOMatic in a chocolate egg-shell:
Name: EggOMatic
Provider: NetEnt
Reels: 5×3
Paylines: 20
RTP: 96.5%
Features: Wilds, spreading wilds, free spins, coin wins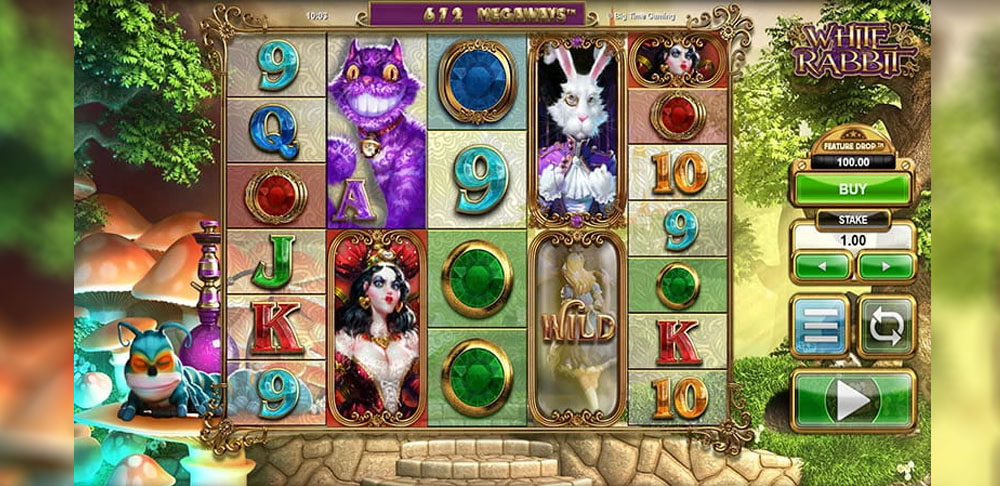 White Rabbit Megaways™ – Big Time Gaming
Our second not-really-Easter-themed-Easter-slot is White Rabbit Megaways™ from Big Time Gaming. We know it's more 'Alice in Wonderland' than 'The Passion of the Christ' but look! A bunny!
Seriously though, and we have said this many times in the past, this Megaways™ based online slot is the cat's whiskers – or grin if you understand the analogy. Not only do we have the superb Megaways™ mechanic with up to 248,382 ways to win, we also get superb graphics, a fantastic immersive storyline, and more insane features than you shake a Mad Hatter at.
Scatters, Wilds, Caterpillar Bonus Wilds, Free Spins, Expanding Reels, Cupcake Bonuses, Feature Retriggers, Queen's Reel, and Feature Drops. Are just some of the incredible bonuses and features that you will find in the Wonderland of a slot.
White Rabbit Megaways™ is truly one of the most amazing slots on the market even with its high volatility. The action is non-stop and the at-times almost Jefferson Airplane inspired soundtrack, the absolutely beautifully crafted artwork, and the smooth animations will have you spinning happily through your Easter break.
White Rabbit Megaways™ in a chocolate egg-shell:
Name: White Rabbit Megaways™
Provider: Big Time Gaming
Reels: 5 cascading reels
Paylines: up to 248,382
RTP: 97.72%
Features: Cascading reels, expanding reels, Megaways™, wilds, bonus wilds, free spins, feature drops, Queen's Reels.
Be safe this Easter
From all of us at OCR, we hope you have a happy Easter or Pesach or just a great holiday. We urge you to be safe this holiday whether your online or on the road. Drive safely. Play responsibly. And have a great time!
GAMES: 1000+
New Loyalty Rewards Program
100% deposit up to R25 000
South Africa's First Live Casino

Same Day Pay Outs

10% Weekly Cashback
#1 Ranked Online Casino Site
GAMES: 1000+
Brand new, innovative Online Casino

100% no wagering casino

Same Day Pay Outs
#1 Ranked Online Casino Site
GAMES: 1000+
Brand new, innovative Online Casino

100% no wagering casino

Same Day Pay Outs
GAMES: 1000+
New Loyalty Rewards Program
100% deposit up to R25 000
South Africa's First Live Casino

Same Day Pay Outs

10% Weekly Cashback